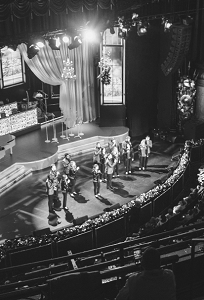 Voices of Lee Concerts
The 14-member Voices of Lee a capella ensemble from Lee University in Cleveland, Tennessee, will visit the Great Outdoors Community Church in Titusville, for concerts at 8:30am and 10am on Sunday, January 29.
Since its debut in 1994, this 14-member group has captivated worldwide audiences with its harmony and spirit. The Voices of Lee was propelled into the national spotlight on the debut season of NBC's "The Sing-Off," a competition of a cappella groups. Out of thousands of auditions, Voices of Lee was selected as one of eight groups to compete and be featured on four prime time NBC network episodes. After nationwide voting, the Voices of Lee finished as the second runner up.
Admission is free. For more information, call 321-385-9731 or visit tgochurch.org.