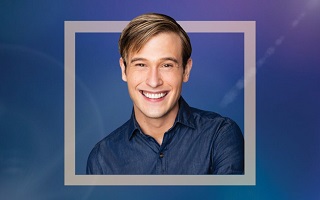 Tyler Henry, The Hollywood Medium
King Center for the Performing Arts presents…
L3 Harris Theatre at the King Center
Friday, February 24, 2022 | 8:00pm
Medium Tyler Henry, star of the NETFLIX series Life After Death with Tyler Henry, continues to be the most sought-after clairvoyant medium both in the United States and around the world. His first show, E! Entertainment's mega-hit Hollywood Medium with Tyler Henry, showcased his unique gift of communicating with the other side and his ability to bring comfort, closure, and hope to his clients and viewers.
Growing up in a small town in central California, Tyler began receiving intuitive mental images when he was only 10 years old with the foretelling of his grandmother's death. Intimate communication with a deceased loved one evolved into "reading" classmates, and Tyler soon found himself the victim of schoolyard bullying. Between speaking to the dead and predicting people's futures, and juggling math homework and gym class, life for a teenage medium in a small town became anything but easy.
Word of his talents spread so quickly that Tyler relocated to Los Angeles and Hollywood Medium with Tyler Henry was born. In each episode, the young medium has one-on-one readings with top celebrities including Ellen DeGeneres, Sophia Vergara, Howie Mandel, Jim Parsons, RuPaul, Chrissy Metz, Eva Longoria, Allison Janney, Chrissy Metz, Kris Jenner, Bobby Brown, Portia de Rossi, Mel B, Lil' Kim, Dr. Drew, Ru Paul, Khloe and Kim Kardashian, Iggy Azalea, and so many more.
With over 300,000 requests for readings from his followers, Tyler decided that a Live Show Tour would be the most effective way to reach even more of his ever-expanding audience in need of healing. During his life-changing live show "An Evening of Hope and Healing" Tyler shares how he communicates with departed loved ones and shares incredible stories of his journey to Hollywood and detailed accounts of readings that helped shape his understanding of the other side. Plus, his incredibly accurate, personal live readings of audience members often bring the entire audience to tears, giving them the proof, hope, and understanding that "Our loved ones never really leave us." Tyler is also a best-selling author with his first book, Between Two Worlds –Lessons From The Other Side. His second book, Here and Hereafter, will be released on March 29th, 2022.