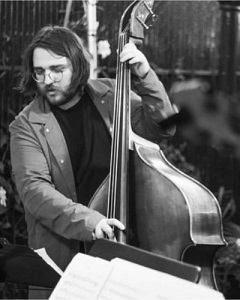 Thomas Milovac in Concert: Jazz Concert
Bassist Thomas Milovac will be joined by Ashton Bailey Gould on drums and Ryan Devlin on saxophone.
Thomas Milovac (b. 1997) is a bassist, composer/improviser, and artist based out of Orlando, Florida. He has performed throughout the United States appearing with artists such as Ulysses Owens Jr., Wayne Escoffery, Ryan Devlin, Adam Nussbaum, Steve Cohn, Rashid Williams's LFJ Orchestra, Alex Han, John Lumpkin, Zoh Amba, Dominick Farinacci, Steve Swell, Elizabeth A. Baker, Sean Hamilton, Majid Araim, Chad Lefkowitz-Brown, Renee Baker, and Jonas Van den Bossche.
Thomas is also a member of the "pan-Florida improvisation syndicate" BONGUS, jazz rock group Creek, and the Jacksonville based ensemble Madre Vaca. He also leads his own ensembles performing his original works. These projects includes the Thomas Milovac Sextet and Trio, Large Ensemble, and the bass and drum duo, The Improjectionists.
In 2021, Thomas started his record label, Cosmo Sonic Collective, focused on releasing improvised music. Thomas released his debut studio album "Sun Ray" in February of 2022. You can listen to samples of his music here: 
https://www.thomasmilovacmusic.com/music
.
Admission: $15 for Jazz Society and Veterans Memorial Center members, $20 for guests, students under 25 yrs of age are FREE. Bring your own food & drink – tables, seating, great music and a beautiful view of the river are provided.