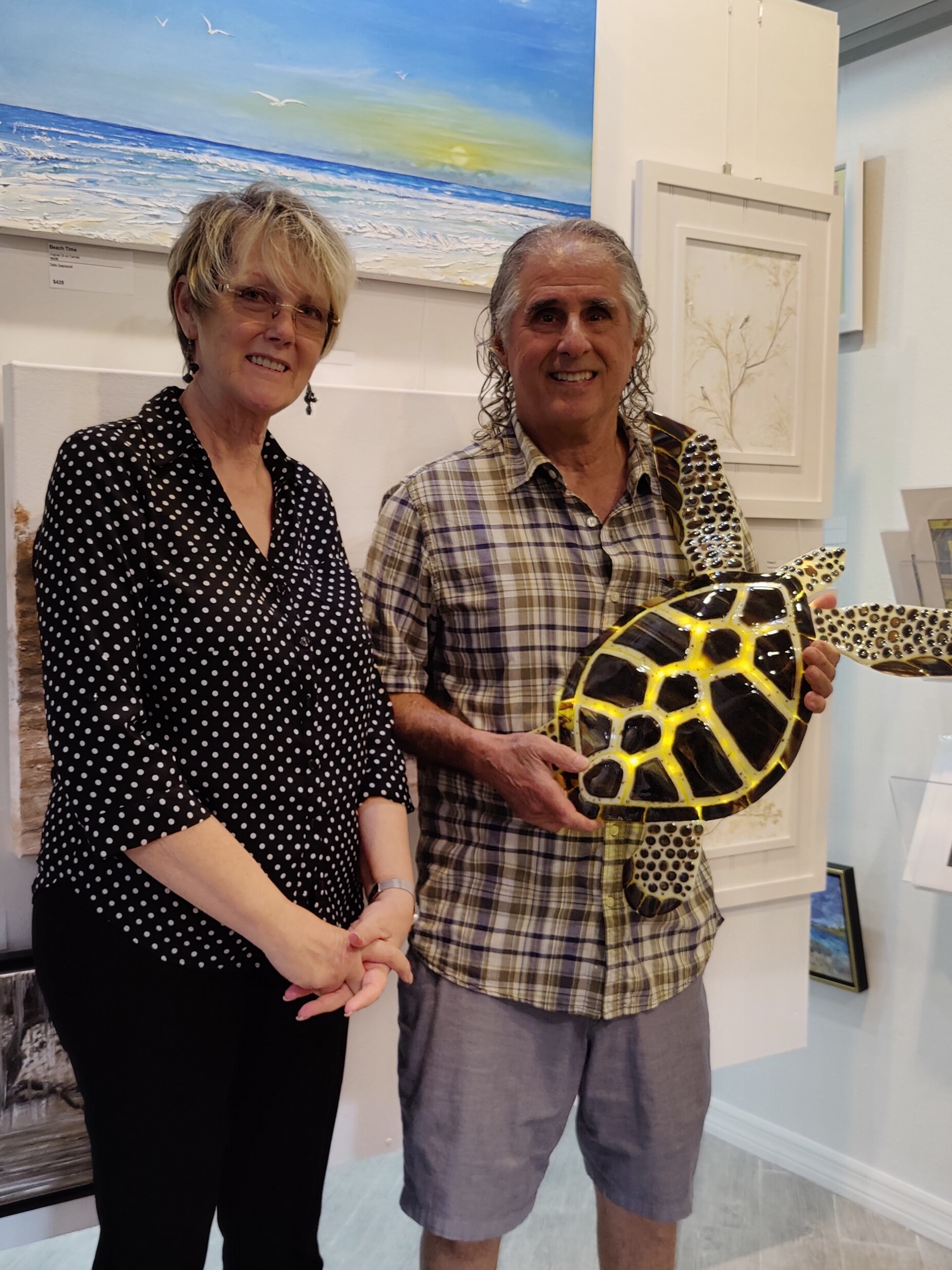 Studios of Cocoa Beach: Opening Reception for January
The Studios of Cocoa Beach begins the New Year with two solo exhibits.  An opening reception for "A Fused Glass Retrospective by Jamille Haddad" and "Painting the Tropics by Delia Swenson" will be held on Saturday January 7, 2023 from 6 to 9 pm.
A retrospective viewing of the glassworks of Jamille Haddad will feature examples of fused glass techniques including glass panels, plates, sculptural vases, dam casts, gold enameling and other functional works
Jamille Haddad has been working in glass for 40 years. After reading an article in a stained glass journal, he became intrigued by the possibilities of fused glass, an art that had its beginnings in Egypt around 2000 BC and was virtually forgotten until the 1980's.  In 1982, at a summer workshop at the Bullseye Fusing Ranch in Portland, Oregon, Mr, Haddad learned the basics of fusing glass.
Since then Jamille has been designing and producing fused glass as well as stained glass art throughout central Florida. Commissions have included windows, entryways, back splashes in kitchens and bathrooms, sink vessels and wall hangings
Delia Swenson paint in oils on wood and canvas capturing the natural colors of our tropical environment. She explores the beauty of local gardens and flowers,as well as Florida beaches, parks, and recreational areas.
Delia has been painting for over a decade. Her masterful use of color and composition brings her landscapes to life. You can almost hear the wind and smell the flowers and smell the flowers and salt air in her realistic oil paintings. Delia says "Life is full of color and my goal is to capture the beauty and emotions it evokes. I hope a little about what I feel while I paint transfers to the viewer."
The Studios of Cocoa Beach is located at 159 Minutemen Causeway in downtown Cocoa Beach. Both exhibits will be on view from January 3 to January 29. The gallery is open Tuesday to Saturday 9 am to 7 pm, and Sunday 10 am to 3 pm. Visit the website www.studiosofcocoabeach.org for artist profiles,upcoming classes and more, or follow them on Facebook and Instagram.