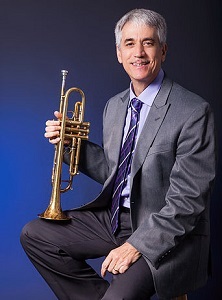 Special Event Performance by Trumpeter John DePaola
The Space Coast Jazz Society is featuring trumpeter John DePaola for a special performance on Sunday, Jan 8th, 2pm at the Veterans Memorial Center in Merritt Island.
John started playing trumpet at age 10 when his dad bought him his first instrument at a Pittsburg flea market. He quickly learned the musical scale and says now, "It was pretty easy to play. I went from there."
DePaola has been a full-time freelance trumpeter for over 30 years. He lives in Orlando, FL, where he has been a musician at Walt Disney World and a Rosie O'Grady's Goodtime Jazz Band member. John has performed with entertainers such as Ray Charles, Sammy Davis Jr., Bob Hope, Johnny Mathis, Kenny Rogers, Frank Sinatra Jr., The Moody Blues, and many others.
He has also played for nationally touring Broadway shows like West Side Story, Hello Dolly, A Chorus Line, 42nd Street, The Producers, and Chicago. John is also a regular performer at jazz festivals across the U.S. with different groups and has also led his group, performing for Jazz clubs and societies in Florida.
In his 3rd season as a member of the Dr. Phillips Center Jazz Orchestra under Rodney Whitaker's direction, as a symphony musician, John has played principal trumpet with The Villages Philharmonic since 2003 and also served as principal trumpet with the Imperial Symphony in Lakeland, FL. He also performs with The Brevard Symphony and Orlando Philharmonic when called upon.
His latest CD, Take Two, is a soulful collection of jazz standards, popular songs from the 60's, and original compositions featuring the John DePaola Quartet with Jeff Phillips on piano and organ, Paul Parker on drums and percussion, and Charlie Silva on upright and electric bass. You can hear samples of his music HERE.
SPECIAL EVENT ADMISSION PRICE: $20 for Jazz Society and Veterans Memorial Center members & $20 for guests, students under 25 yrs of age are FREE. Bring your own food & drink – tables, seating, great music and a beautiful view of the river are provided.