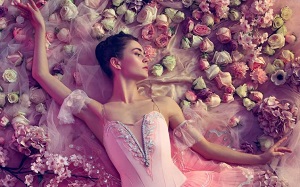 Sleeping Beauty Ballet
King Center for the Performing Arts presents…
Friday, December 30, 2022 | Performances at 1:30pm and 6:30pm
Don't miss the world's favorite masterpiece of classical ballet, the internationally acclaimed, The State Ballet Theatre of Ukraine, which returns to North America and Canada in the 2022 & 2023 season for sparkling performances.
The evil fairy Carabosse curses Princess Aurora for 100 years of sleep with a single-finger prick on her 16th birthday. Doomed by fate, only a sweet kiss from the prince can break the spell and wake up the sleeping beauty. A fascinating tale comes to life in exquisite production, "a master class in classical style" (The Guardian), with "some of the most delightful steps in the 19th-century repertoire". This superb classical production features Tchaikovsky's delightful music, visually stunning with lavish sets and elaborate costumes.
The entire family will love this magical experience, filled with spectacular sets and enchanting choreography.
Create unforgettable memories with friends and family – make it your cherished holiday tradition!