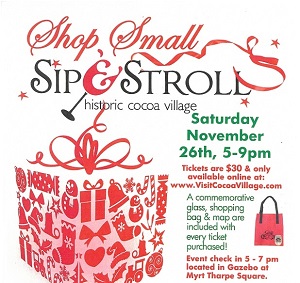 Shop Small Sip & Stroll in Historic Cocoa Village
Get ready for the holidays with the Shop Small Sip & Stroll, presented by Historic Cocoa Village Main Street. Join them on Saturday, November 26th, from 5-9 PM for wine samplings, hors d'oeuvres and shopping deals.
For the ticket price of $30, you will receive a Sip & Stroll commemorative wine glass, shopping bag, and a map of the participating merchants. Your ticket purchase automatically enters you into the drawing for one of 4 prizes of $50 in Village Bucks. Additionally, for each of the Treasure Zone businesses visited, (marked in red on the map), you are entered for a chance to win the special Treasure Zone Village Bucks of $100. That's one additional chance to win for EACH Treasure Zone business visited.
For more information or to purchase tickets, go to VisitCocoaVillage.com.