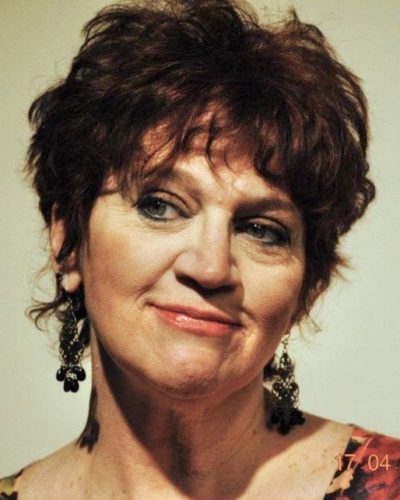 Vocalist Mickey Freeman: Jazz Concert
Veterans Memorial Center | Sunday, December 11, 2022 | 2:00-4:00pm
MICKEY FREEMAN is a self taught vocalist who began her career in Boston in 1980 when she became a member of the 30's/40's campy swing group, The Boo-Bette Band, who toured throughout New England.
In 1982 she formed the vocal-based group, The Ritz which was inspired by the likes of The Manhattan Transfer and Lambert, Hendricks & Ross. The Ritz played jazz festivals, both domestic and international, and toured with such artists as Dizzy Gillespie, Woody Herman, Gerry Mulligan, Kenny Burrell, The Pointer Sisters, Phil Woods and Spyro Gyra in Finland, Morocco and Singapore. The Ritz also releasead two albums "Steppin' Out" in 1985 and "Born To Bop" in 1987.
In 2010 Mickey was reunited through Facebook with her old friend and leader of the Rhode Island based Roomful of Blues…Duke Robillard. Duke asked Mickey to come to his gig at the Iridium to sing some tunes with his band. A magical collaboration ensued and she recorded "Livin' The Dream" produced by Duke Robillard on Blue Duchess Records. Duke Robillard and saxophonist Scott Hamilton are guests on her CD. For the next eight years, Mickey fronted several jazz trios and quartets in New Jersey.
In 2018, Mickey relocated to Vero Beach, FL, where she performs regularly at The Grind & Grape Café, Costa D'Este Hotel, Cobalt at Vero Beach Hotel, Vero Beach Country Club, Vero Beach Yacht Club. Mickey has performed at the Laurel Awards at the Indian River Theater. In 2022 she was asked to perform at the Vero Beach Museum of Modern Arts' Annual Fundraising Gala, as well as the Annual Film Festival White Party.
In April of 2019, Mickey became one of the artists in the ARTS IN MEDICINE/HEALING ARTS Program, which offers music and art therapy to cancer patients receiving chemotherapy and other treatments at Florida Cancer Specialists in Vero Beach…her most rewarding musical experience to date.
You can sample her music HERE!
Freeman will also be joined by keyboardist Brad Hatfield, who is also an orchestrator, producer, and Emmy Award winning composer based in Vero Beach Florida. Brad has performed with The Boston Pops on numerous concerts, tours, and recordings accompanying such diverse artists as Patti LaBelle, kd lang, Bono, Andy Grammer, Demi Lovato, and James Taylor. He has also performed with Aretha Franklin, Gary Burton, Carly Simon and Livingston Taylor.
His compositions have been heard on movies such as: Iron Man II, Borat, Analyze This, as well as the TV series: The Sopranos, NCIS, This is Us, American Horror Story, CSI, Saturday Night Live, GLEE, Supergirl, Flash, Entourage and many others. Brad was co-composer of the FX series Rescue Me, and is currently on the composing team for the CBS daytime drama The Young and the Restless where he writes and produces a variety of score and source music.
As an arranger and orchestrator, The Boston Pops, Houston Symphony, Kansas City Symphony, Atlanta Symphony and The Rochester Philharmonic have performed his work.
Brad developed and teaches online courses in Music Supervision and Songwriting for Film and TV for Berklee College of Music.
After many years creating and producing music for film and TV, he has now assembled a great team of composers and performers who can satisfy a wide range of musical genres for use in media through the formation of the Brad Hatfield Music Collective. His website is: http://www.bradhatfieldmusic.com/index.php.
Admission: $15 for Jazz Society and Veterans Memorial Center members, $20 for guests, students under 25 yrs of age are FREE. Bring your own food & drink – tables, seating, great music and a beautiful view of the river are provided.