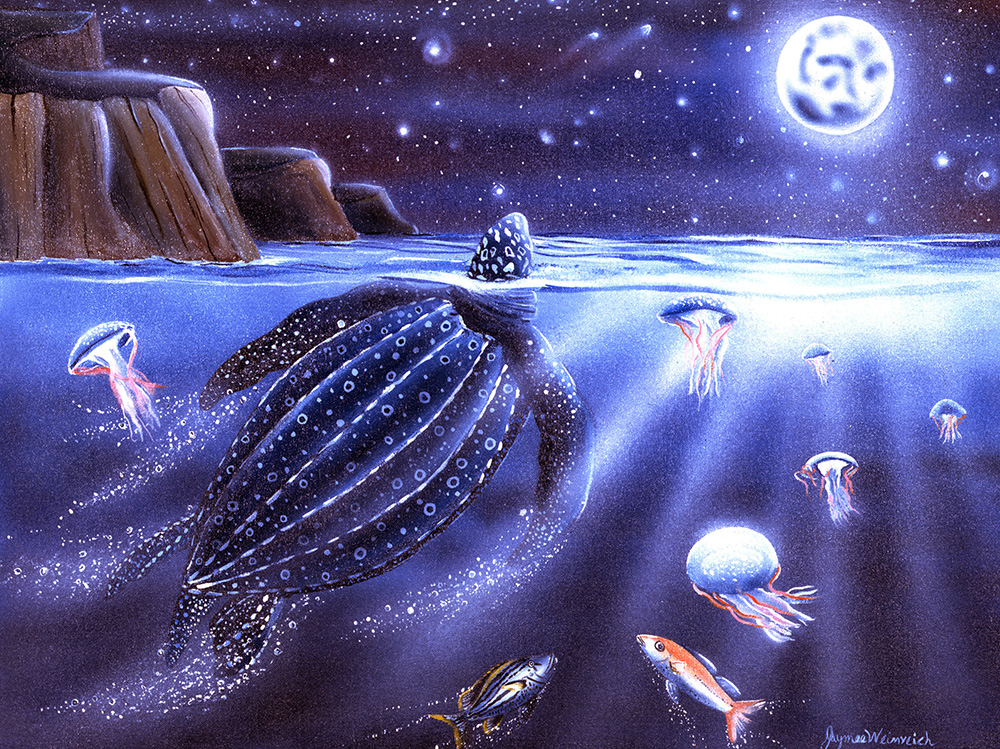 Painting Florida Sea Turtles: Workshop with Jaymee Weinreich
The Studios of Cocoa Beach is hosting a four session class on "Painting Florida's Sea Turtles" taught by Jaymee Weinreich. The class meets on Tuesdays from 6 to 8 pm, beginning August 16 and ending September 7
If you have a creative urge tugging at your soul, this is your chance to explore acrylic painting. With over forty years of experience , Jaymee will guide you in acrylic painting techniques including drawing, proportion, composition and design, creating an environment, blending, and detailing.
There are five types of sea turtles that nest on the Florida beaches. In this one-day a week class, students will compose a painting of one of these sea turtles. Jaymee will guide students through the steps necessary to complete a finished work. Some drawing and painting experience is helpful but not essential.
Weinreich has a Bachelor of Fine Arts Degree from Florida International University and has been a professional artist for over twenty-four years. She an experienced teacher and creates art in a number of different mediums. Jaymee loves sharing her expertise and believes there is an artist in everyone.
Students will need to bring their own materials. A list will be sent upon registration or contact Jaymee prior to signing up. Call or text Jaymee at 321-588-3352 or email jaymeeweinreich@gmail.com. Fee for this four session class is $150. Register at the Studios website www.studiosofcocoabeach.org. The Studios is located at 159 Minuteman Causeway in downtown Cocoa Beach.