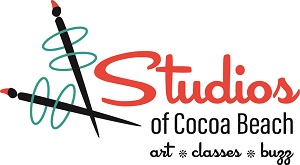 Opening Reception: 6th Annual Members Show
The Studios of Cocoa Beach celebrates its 6th Anniversary with its Annual Members Exhibition, entitled "Therefore I Create VI" starting November 1st. Each of the 30+ member artists will choose the best of their current works to display. This includes painting, graphics, photography, pottery, sculpture, jewelry, fiber, glass art, woodwork, re-purposed surf boards and more.
On Saturday, November 12 an opening reception will be held from 6 to 8 pm. This is a great opportunity to meet the artists and patrons who make the Studios such an incredible home for art on the beaches. The Studios also offers classes in oil, acrylic and watercolor painting, drawing,stained glass, ceramics and recently has acquired an instructor for children's classes.
The Studios is located at 159 Minuteman Causeway in downtown Cocoa Beach. The show will be on exhibit from November 1 to December 31, 2022.
The gallery is open Tuesday through Saturday 9 am to 7 pm, Sundays 10 am to 3 pm. Visit www.studiosofococabeach.org to see artist portfolios, information on events and a list of all upcoming classes. Or follow us on Facebook and Instagram.