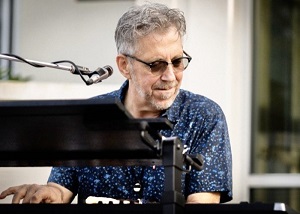 Mike Telesmanick Quartet: Jazz Concert
Veterans Memorial Center | Sunday, August 14, 2022 | 2:00-4:00pm
Mike Telesmanick is an accomplished jazz pianist, composer, and singer. This performance will feature Mike on piano and vocals, jazz vocalist Nolia Blue, bassist Robert Burns, Jr., and drummer Paul Cywinski.
Mike heralds out of Boston and Los Angeles and is a graduate cum laude of the esteemed Berklee College of Music in Boston. He was presented with his Jazz Performance and Composition degree from legendary composer, John Williams and drummer, Buddy Rich.
Mike has performed in the US and abroad with some of the greatest musicians in the business: Drummers, Billy Higgins (the most recorded drummer in jazz history, who played with John Coltrane, Dexter Gordon, Herbie Hancock, Pat Metheny, Lee Morgan, Cedar Walton, Charlie Hayden, Ornette Coleman, Milt Jackson, & Charles Lloyd) Jack DeJohnette (Miles Davis; Keith Jarrett; Dave Holland), Peter Erskine (Weather Report), Wilby Fletcher (McCoy Tyner; Ron Carter; Ahmed Jamal), Jeff Tain Watts (Wynton & Branford Marsalis), Willie Jones III (Horace Silver; Roy Hargrove; Hank Jones; Cedar Walton; Herbie Hancock), Ed Shaughnessy (Johnny Carson's Tonight Show Band), Tim Smith (Poco), Mark Craney (Jethro Tull; Jean Luc Ponty), Steve Smith (Journey), and Percussionist Juno Lewis (John Coltrane).
He has played with bassists Marshall Wood (Tony Bennett), Wilfred Middlebrooks (Ella Fitzgerald), Eddie Gomez (Bill Evans), Larry Gales (Thelonius Monk & Billie Holiday), as well as other notable Grammy-Winning artists: Manhattan Transfer, Brian Setzer, Joe Lovano, Joe Sample (Jazz Crusaders) Duke Robillard (Roomful of Blues), Bobbie Kimball (Toto), Bob Gullotti (The Fringe and Phish), George Garzone (The Yellowjackets; Tom Jones; Gil Evans; Woody Herman), and Frank Zappa's arsenal of masterful players: Steve Vai, Don Preston, Bunk Gardner, and the Fowler Brothers.
You can sample some of his pervious performance on the Space Coast Jazz Society's YouTube channel.
Admission: $10 for Jazz Society and Veterans Memorial Center members, $15 for guests, students under 25 yrs of age are FREE. Bring your own food & drink – tables, seating, great music and a beautiful view of the river are provided.