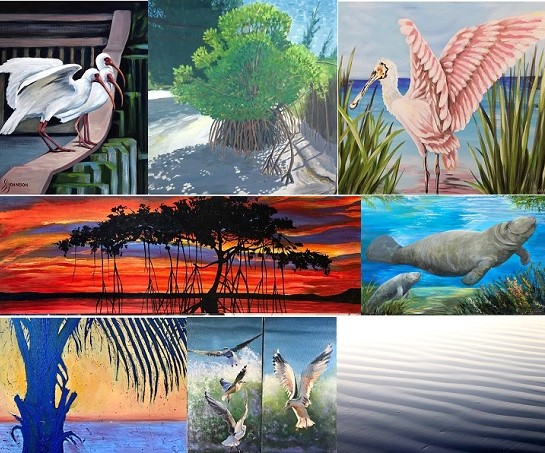 Melbourne Orlando International Airport Art in Public Places Exhibition
Through the Brevard Cultural Alliance Art in Public Places Program a spectacular new collection of artwork, created by local artists, has been installed at Melbourne International Airport in two areas of their terminal buildings. The exhibit will be on display from June 6, 2022 thru October 6, 2022. Ticketed passengers arriving and departing will enjoy artwork just beyond the security checkpoint area and all visitors to the Airport's main terminal may view artwork in the Atrium.
These exhibits create a stimulating environment for staff and an opportunity for clients and visitors to view artwork created by our local talent. Artists participating in this exhibition include:
Beyond Security Checkpoint: Marcia Day, Richard Gillmor, Mitch Gubnitsky, Sandra Johnson, Julie Jones, June Long-Schuman, Shirin Malekiraei, Morgan Richie, E. Lee Wilson Jr.
On behalf of the artists, BCA would like to thank Melbourne International Airport for participating in the program so Brevard County artists have quality venues to showcase and sell their artwork.
If you are interested in purchasing artwork or would like to participate in the program contact Lynne Brezina at Brevard Cultural Alliance (321-690-6817) or email