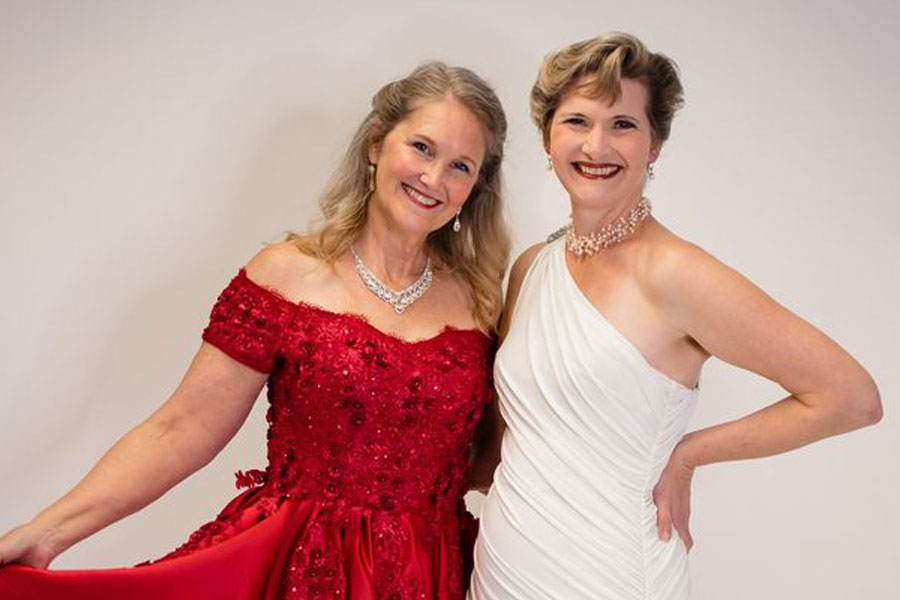 Space Coast Symphony Orchestra presents Love, Death & Madness
Space Coast Symphony Orchestra presents..
June 18, 2022 | 7:00pm | Scott Center at Holy Trinity
OFFENBACH Belle nuit from Contes d'Hoffmann
WAGNER Dich teure Halle from Tannhäuser
TOBIE Ebben ne andro lontano from La Wally
STRAUSS Es gibt ein Reich from Ariadne auf Naxos
VERDI Addio del passato from La Traviata
SAINT SAENS Mon coeur s'ouvre from Samson et Delilah
BELLINI Deh con te… Mira o Norma.. Si fino a l'ore from Norma
PUCCINI Signore ascolta from Turandot
PUCCINI In questa reggia from Turandot
DONIZETTI Lucia mad scene from Lucia di Lammermoor
WAGNER Mild und leise from Tristan und Isolde
WAGNER Ist ein Traum from Rosenkavalier

Mary Anne Kruger, soprano
Amy Cofield, soprano

Sopranos Mary Anne Kruger and Amy Cofield both live in Brevard County. Separately, they have enjoyed international careers as opera singers. Together — they are the Space Coast Divas. Ms. Kruger has spent most of her career in Europe singing well over 40 glorious roles such as Madama Butterfly and Salome. Ms. Cofield has likewise performed in the U.S., Europe and Asia, often being sought for Violetta, the lead role in Verdi's La Traviata. As Space Coast Divas, the pair will present Love, Death and Madness, featuring the works of Puccini, Verdi, Bellini, Offenbach, Strauss, Wagner and other master composers of the form. Accompanied by your Space Coast Symphony, the singers will perform a range of works through the Bel Canto and Romantic, to the Verismo and Modern periods to experience how love, death, and madness are portrayed through compelling characters, lush music and soaring voices.