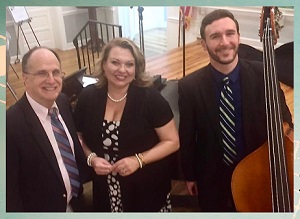 Jazz Vocalist Michelle Mailhot in Concert
Jazz Vocalist and educator Michelle Mailhot will be back in concert as a part of our Special Jazz Series through March. She will be backed by Michael Kramer on the keyboard, Ben Kramer on bass and Bobby Koelble on guitar.
For over 25 years Michelle Mailhot has been one of the most sought-after Jazz singers around. During her celebrated career, she has shared the stage with such jazz greats as Mel Tormé, Max Roach, Sheila Jordan, Billy Stritch, Sandy Patti, Liza Minnelli, Dr. Billy Taylor, and more. In 2004 she won a Drama Desk Award for her work in the Off-Broadway show Toxic Audio: Loudmouth.
Locally in Central Florida, she appears regularly at premier jazz venues, has sung with the Orlando Philharmonic Orchestra, the Dr. Phillips Jazz Orchestra, and is the regular featured singer with the Blue Bamboo Big Band.
Michelle is also a highly-regarded session singer for radio and television commercials…and…you have likely heard her singing the backing vocals on the Shy Baldwin songs in season 3 & 4 of The Marvelous Mrs. Maisel.
Her acclaimed solo CD "Happy Madness" is available on iTunes and most major music streaming services.
Michelle Mailhot is also a distinguished music educator. With both a bachelor's and master's degree, Michelle has been a professor of music at both Valencia and Rollins colleges for the better part of a decade. There she has taught music theory, sight-singing, ear training, private vocal instruction and directs a jazz choir.
Michelle is also one of the top teachers on the website Jazzvoice.com, where she runs a tremendously popular class in Scat-singing.
Her work as a clinician and adjudicator with All-State choir competitions, and choral festivals such as Showstoppers, America Sings and Orlando Fest has taken her across the country, to Singapore and Japan. As a clinician at the Disney Sings workshops, Michelle also got to teach side-by-side with her mentors at the Phil Mattson Choral Workshop and the Steve Zegree Vocal Jazz Camps.
You can see highlights from her past performances on our YouTube channel here: https://www.youtube.com/playlist?list=PLxg1Yv6cuyD7oD6gXyW7Jhh7_etjZRrZ8.
$20 SPECIAL EVENT ADMISSION PRICE for all. Students under 25 yrs of age are FREE. Bring your own food & drink – tables, seating, great music and a beautiful view of the river are provided.