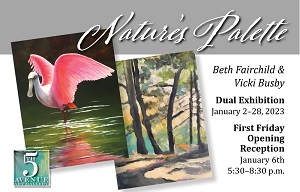 Friday Art Walk Reception: Nature's Palette Exhibition
Fifth Avenue Art Gallery presents…
Please join Fifth Avenue Art Gallery on Friday, January 6, 2023, 5:30–8:30 p.m. for the opening reception of "Nature's Palette— A Dual Exhibition of Paintings by Beth Fairchild and Vicki Busby."
Beth and Vicki will be presenting their work with a focus on the things they each love about the Florida landscape: the wetlands, ocean, and nature. Together sharing their own interpretation and use of dramatic light and color. Both Vicki and Beth are accomplished artists with their own unique impressionistic style of painting in oils. We invite you to be inspired by this blended combination of talent and style.
Fifth Avenue Art Gallery is at 1470 Highland Avenue in the Eau Gallie Arts District of Melbourne. For further information, call 321-259-8261 or visit fifthavenueartgallery.com.