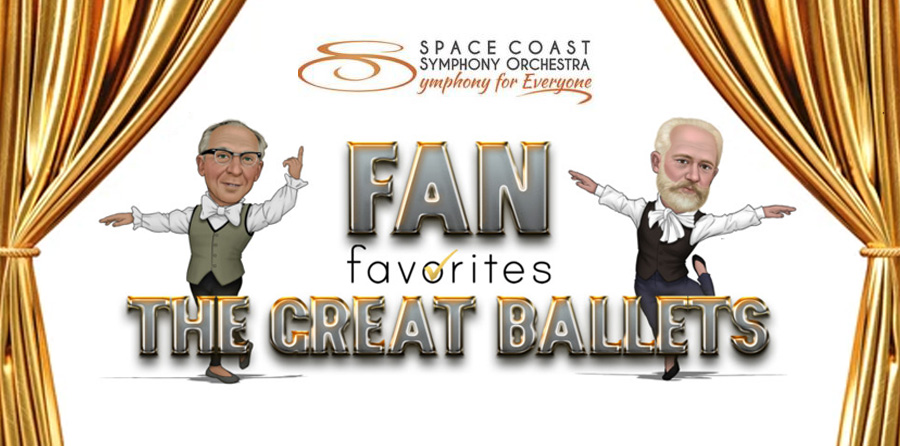 Space Coast Symphony Orchestra presents Fan Favorites: The Great Ballets Concert
May 21, 2022  |  7:00pm  |   Scott Center at Holy Trinity
TCHAIKOVSKY  Sleeping Beauty Suite
MASSENET Le Cid Ballet Music
PISZCZEK Pangean Dances (WORLD PREMIERE)
GLIERE Russian Sailor's Dance from Red Poppy Suite
STRAVINSKY  The Firebird Suite
KHACHATURIAN Adagio from Spartacus
DE FALLA  Danza ritual del fuego
COPLAND Simple Gifts from Appalachian Spring
PRYOR  Blue Bells of Scotland
SARASATE Playera
GINASTERA  Malambo from Estancia
SARASATE Playera

Alexis Regazzi, trombone
Jose Guedez, violin
Mark Piszczek, guest composer
Space Coast Symphony Youth Orchestra
Concerto Competition Winner

Twelve seasons and hundreds of requests have led to Fan Favorites: The Great Ballets, a concert chock-full of music selected by you!  This program features a whirlwind tour of some of history's greatest ballets, by great composers such as Tchaikovsky, Khachaturian, Ginastera, Stravinsky, Copland and more!  SCSO Principal Trombonist, Alexis Regazzi joins the orchestra to perform the virtuosic showpiece, Blue Bells of Scotland.  SCSO violinist, Jose Guedez will also be featured as he performs Pablo Sarasate's demanding romp, Playera. The program will also feature the World Premiere of Mark Piszczek's thrilling Pangean Dances. Members of the Space Coast Symphony Youth Orchestras will perform side-by-side with their professional SCSO counterparts in this inspiring program.