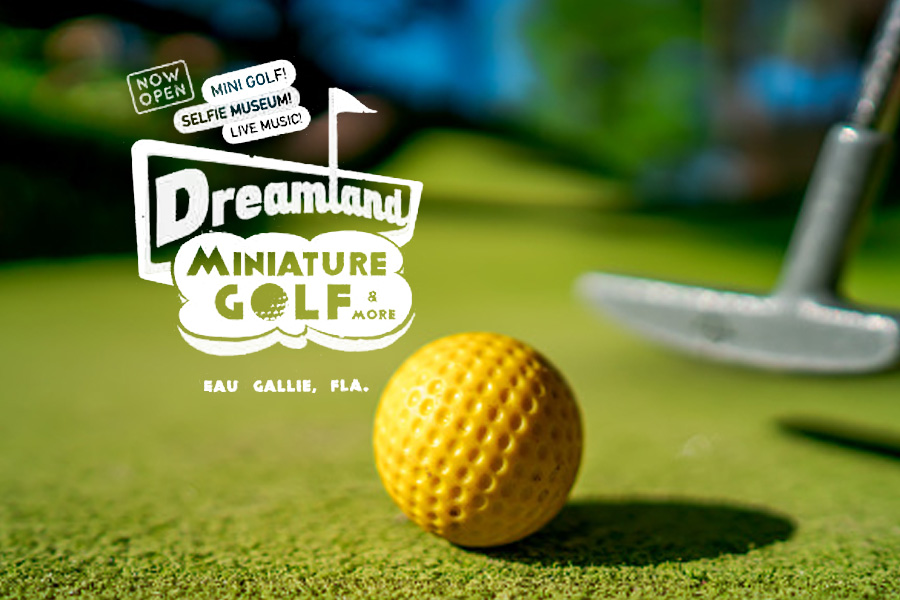 Dreamland Miniature Golf & More Pop-Up
NOW OPEN in the Eau Gallie Arts District for a three month pop up experience, Dreamland Mini-Golf features two 18-hole art-infused golf courses inside the former Foosaner Art Museum. Showcasing the latest in 1950's putt-putt golf technology, each hole was designed and crafted by local dreamers of many stripes: painters, poets, textile aficionados, carpenters, computer coders, dog lovers, film buffs and floral designers. With lead design and installation by Steve Monroe of Toxic Roots, the course was built from roughly 90% recycled materials donated by the general public – and even includes two mini-mini-golf holes produced via 3D printing by Roman's Artifacts. Play follows traditional mini-golf rules, and most (but not all) holes use the expected putter and golf ball. Beyond that, players are limited only by their dreams. Take a break from awake!
Produced by Derek Gores Gallery, the show is presented by Toyota of Melbourne, Northboro Builders, Intracoastal Brewery and FM Pizza.
In addition to mini golf, Dreamland includes the Selfie Museum. Fifteen photo-ready walls fine-tuned for your selfie pleasure – such as: The Butterfly Wall, Black and White Drawing Wall, The Lips Couch, The Amazon Trail, That 70s Sound, Be Curious, Overworked, and more. No filter needed, but certainly ubiquitous and welcome.
But wait there's More: The Projection Experience by Illuminated Paths. Moving light ready for your silhouette to help make the magic. And of course: The Dreamland Gift Shop. All the putt putt gifts you could daydream of, with a nightmare or two for good measure.
Dreamland is Open:
Thursdays 5-10pm
Fridays 5-10pm
Saturdays Noon-10pm
Sundays Noon-5pm
Contact rachel@derekgores.com for private events.