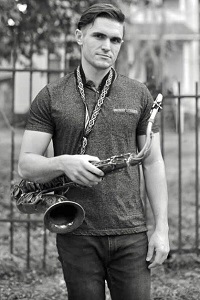 Dexter Wilborn Quartet in Concert
Saxophonist Dexter Wilborn is performing in concert with Daniel Tenbusch on keyboard, Ashton Bailey Gould on drums and Thomas Milovac on bass.
Dexter is a multi-instrumentalist from Melbourne Beach, FL. He has performed with a variety of musical acts at different venues across Brevard County and abroad, with notable performances including a concert for President Joe Biden, the Suwanee Music Festival, Melbourne Arts Festival, and the Melbourne Beach Founder's Day Celebration.
Dexter's style is heavily influenced by his jazz roots and the mentorship of his father, Dan Wilborn, who is another local favorite. He also draws inspiration from gospel music, R&B, salsa, blues, and rock and roll. Dexter has also performed as an instrumentalist for the University of Florida Gospel Choir and several Gospel Praise and Worship groups on both the saxophone and electric bass.
Dexter is in his final year as a doctoral student in Counseling Psychology at the University of Florida and is working on his psychologist residency at the Bay Pines VA Hospital system in St. Petersburg, Florida.
Bring your own food and drink – tables, seating, great music and a beautiful view of the river are provided.