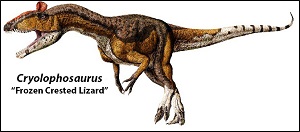 Cryolophosaurus: Frozen-Crested Lizard
Meet and greet the new Jurassic addition to the Museum of Dinosaurs and Ancient Cultures: Cryolophosaurus, also known as Elvisaurus because of its unusual head crest. This fantastic beast measures 20 feet long and over 7 feet tall. Children will be offered a special scavenger hunt to earn cool dinosaur prizes.
There are no additional costs for this event, as it is included in the regular Museum admission.