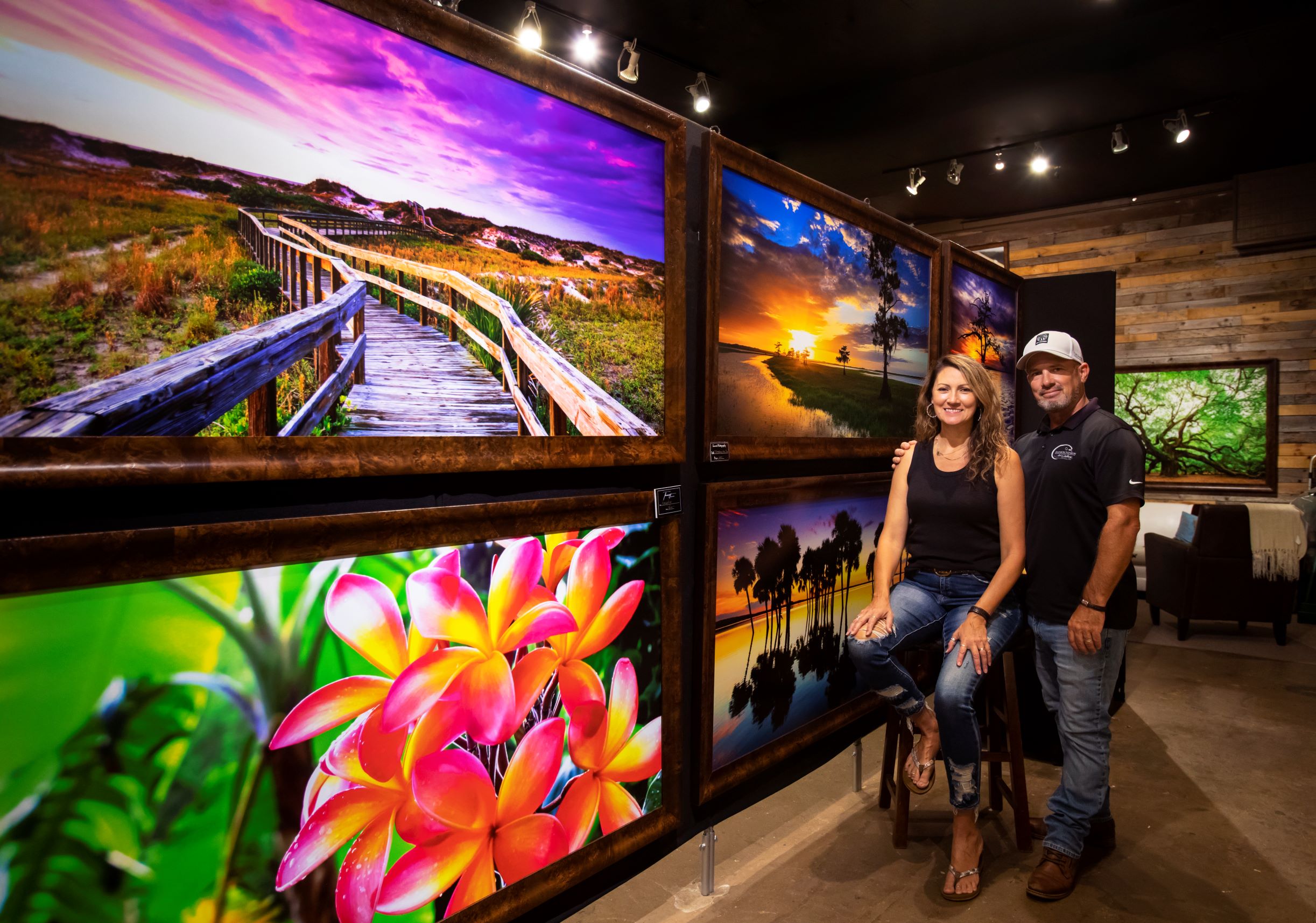 Cheers to 20 Years Anniversary Celebration at Downtown Art Gallery
The Downtown Art Gallery in Titusville will celebrate the big 2-0 on Friday, September 30, 2022 from 6 to 9 pm. Owners Jeff and Heidi Thamert have been serving Central Florida with local art, picture framing and vibrant culture since 2002!
Jeff grew up in Seattle and came to Florida to help his uncle who owned the popular Kloiber's Cobbler Eatery in downtown Titusville. Heidi is from Michigan but her parents wintered in Florida and she got a job at the restaurant. Jeff and Heidi bonded over a love of photography. When a small space became available next to Kloiber's, they opened a framing shop with room to display their art. Jeff had learned the basics of framing to display his and Heidi's work, and over the years he took classes in advanced techniques and art conservation and preservation. As adjoining spaces became vacant they expanded and invited local artists to join them in the gallery. They now boast five large showrooms, one of the largest galleries in Florida.
The rest is history as they became known for a vibrant gallery selection, preservation framing and hosting their fun and popular art receptions! It's still a job they love, enhanced by the many friends they have made, the artists they have championed and the customers who supplied a feast of art and unique memorabilia to be framed.
"The amount of talented artists in our area is amazing and we love being at the center of art and culture in our community. Being artists ourselves, and liaison between art, artist and client, it is a satisfying career and we look forward to many more years." said Heidi Thamert.
Join the fun at 335 S. Washington Ave. in historic downtown Titusville… their building is over 100 years old! The Downtown Art Gallery artists will help host the event. Expert watercolorist Diane DeShong Cannon will be doing a live art demo throughout the evening.
Celebrate with champagne, wine and live music! Nibble on tasty hors d'oeuvres as you leisurely explore the art gallery's five beautiful showrooms while listening to the acoustic sounds of RG Evans.
The first 50 adult attendees will receive a free signature logo wine glass. All visitors will be entered to win a signed, limited edition 24 x 36 framed art piece by award winning photographer Jeff Thamert.
The event is free and open to the public. Learn more at their Facebook event page "Cheers to 20 Years!" or by calling 321-268-0122.