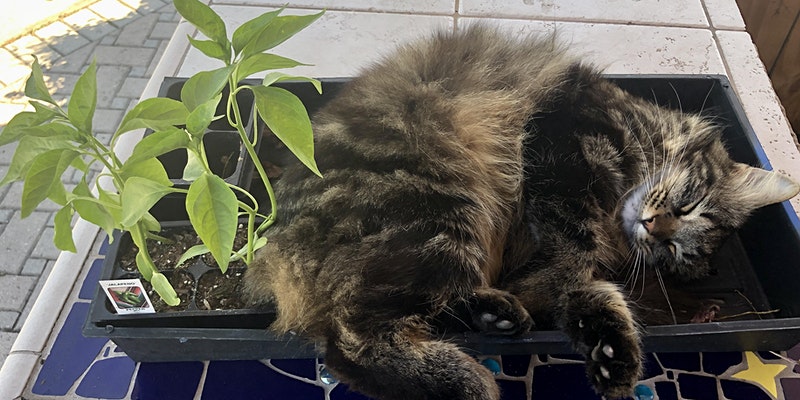 Cat Container Garden Workshop
Join Susan from our Annuals + Perennials department for this make-n-take container garden that your favorite felines friends can enjoy! Use paint markers to customize your 10″ terracotta pot with your kitty's name or some fun drawings and then pot it up with some cat-friendly herbs to take home like catnip, cat grass, etc. This is workshop is $30 and includes all materials needed.
A portion of the proceeds from each reservation will be donated to Hope for Brevard. Hope for Brevard is a local organization whose mission is to foster animals in order to help abandoned, homeless, and stray animals find permanent and loving homes. They educate all people on proper pet care and focus on building a network to provide low-cost spay and neuters and vet care.
Bring a donation of supplies for Hope for Brevard and get a $5 off $10 coupon towards a purchase at Rockledge Gardens.
– Purina Cat Chow (blue bag)
– Purina Kitten Chow (yellow bag)
– Any brand of cat and kitten food
– Pine Pellets (40lb at Tractor Supply)
– Purina Dog Chow or any brand of dog food is always needed
– Towels, sheets, linens, etc
– Paper Towels
– Bleach, laundry detergent, hand soap
– Cat and dog toys
– Cat and dog treats
– Cat and dog beds
– Cages and crates of any size
*Limit one (1) $5 off your purchase of $10 or more coupon per customer and per transaction when you bring a donation of the supplies listed above. This coupon is good for one (1) month and must be used on garden items in the nursery. Excludes vendor items in our botanical boutique, farmer's market, and beer/wine.
**Come early and grab a drink! A selection of local craft beers, natural wines, coffee, kombucha, and more will be available for purchase in our Farmers Market! You are welcome to bring drinks from our Farmers Market into this workshop to enjoy. Our Farmers Market will have snacks, produce, fresh bread, additional drinks, and more available for purchase before and after this event for you to continue enjoying your day in the gardens!
Happens on the following Dates:
Apr 10, 2022, 11:30am to 12:30pm
Apr 10, 2022, 1:30pm to 2:30pm