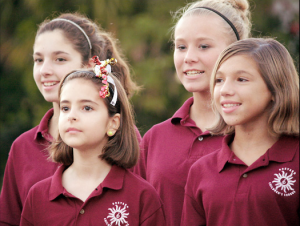 Brevard Youth Chorus: Lift Up Your Voice Concert
While there won't be a maypole in sight, the Brevard Youth Chorus will celebrate the season with song during a spring concert in two Melbourne locations on May Day, Sunday, May 1. The first performance for the singers in grades 4-10 will be at 3:00 PM at Central Baptist Church, 2503 Country Club Road in Melbourne, 32901. The group hopes to bring joy and encouragement to the audience during Lift Up Your Voice, with songs of different cultures, languages, and genres. The program includes a Liberian folk song, a Hebrew song of peace and justice, two songs in Latin, a South African hymn and an African American spiritual. As the final number, "Heartsong," notes, "I have a song living in me, more than words and a tune. It's a song with such beautiful things, and I want to share it with you. Listen to your heartsong." At 5:00 PM, the concert will be repeated at Advent Lutheran Church, 7550 North Wickham Road, in the Suntree area of north Melbourne. Membership in the non-profit chorus is open to boys and girls in public, private, charter and home-schools. For more information, contact co-director Eldean Hagans at BYCsings@gmail.com or call (321) 291-3141.
The Brevard Youth Chorus is co-directed by Brevard music teachers, Eldean Hagans and Le Ann Hasker.