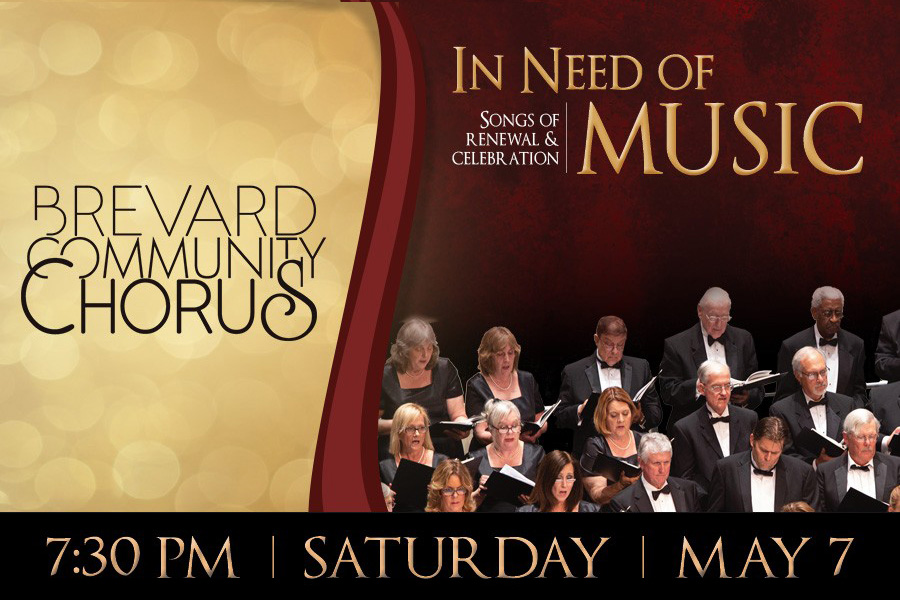 Brevard Community Chorus: In Need of Music – Songs of Renewal and Celebration
King Center for the Performing Arts presents…
Saturday, May 7 at 7:30 PM
With guest performers: Holy Trinity Episcopal Academy Youth Choir under the direction of Mrs. Joani Slawson &
Members of the Brevard Symphony Youth Orchestra
Accompanied by: Lori Jahn and Melanie Marteney Adult – $25
Military / Senior – $20
Student ID: FREE With ID at Ticket Office
*ADDITIONAL FEES APPLY*
**Additional Non-Refundable Per-Order Fee of $3.00 Applies**
Lorie Wacaster will conduct the Brevard Community Chorus in their annual spring concert, with a program designed to refresh and renew the human spirit. Accompanied by talented pianists and select players from the Brevard Symphony Youth Orchestra, In Need of Music will feature the chorus in a diverse musical presentation. Lending their considerable talent, will be the voices of the Holy Trinity Episcopal Academy Youth Choir, under the direction of Mrs. Joani Slawson. The youth singers will join their adult counterparts in several pieces and perform one separate selection. In addition, Ben Walden and Lauren Juntunen of the Brevard Symphony Youth Orchestra will perform musical passages integral to the program's musical accompaniment.
As suggested by the concert title, In Need of Music is a testament to the healing nature of song. The audience will be treated to selections on this theme with works by University of Central Florida Professor Emeritus, David Brunner, including the title song, "I am in Need of Music," with lyrics by American poet, Elizabeth Bishop. Continuing the celebration of love and music is Neue Liebeslieder (New Love Songs) Waltzes by Johannes Brahms, an enjoyable work, extolling romantic love. The program continues with favorite opera choruses, by composers Copland, Verdi and Bizet. Several songs by Gwyneth Walker comprise the final portion of the program, which aptly concludes with "The Day is Done."
Three works for four-hand piano will demonstrate the proficiency of the accompanying musicians.
The Brevard Community Chorus is an auditioned, volunteer organization of community singers that meets weekly for the purpose of rehearsing and performing the larger works of the choral repertoire. The group is at home in the Maxwell C. King Center for the Performing Arts, where the chorus has performed such works as
Messiah
by Händel,
Gloria
by Poulenc,
Requiem
by Mozart,
Ein Deutsches Requiem
by Brahms and
Carmina Burana
by Orff.
During the sabbatical of Eastern Florida State College music professor, Dr. Robert E. Lamb, the chorus will perform under the baton of Lorie Wacaster.
Lorie Wacaster hails from Mobile, Alabama, where she grew up with a passion for music. She holds a Bachelor of Arts in Music degree from Christopher Newport University in Virginia and is a member of the VoiceCare Network, a graduate level program for vocal music teaching-learning methods. Ms. Wacaster has been a member of the music faculty at Holy Trinity Episcopal Academy in Melbourne, Florida for 17 years, where she teaches Strings, Chorus and Music Theater classes. A lifelong singer and musician, Wacaster has sung with The Mobile Opera and Kentucky Opera and has conducted choirs in Florida, Alabama, Georgia, Kentucky and Virginia, as well as groups in Neu Ulm and Hohenfels, Germany.