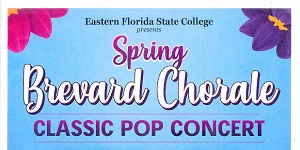 Brevard Chorale Spring Concert
Reacquaint yourself with the groovy sounds of the '50s, '60s and '70s, with the Brevard Chorale, which welcomes spring with a classic pop concert at 7:30 p.m., Saturday, April 30, at the Simpkins Fine Arts Auditorium at Eastern Florida State College in Cocoa.
The 50-member group will reprise the performance at 7 p.m., Wednesday, May 4, at the Community Church of the Great Outdoors RV-Nature & Golf Resort, 144 Plantation Drive, Titusville.
The program features chart-busters made popular by the likes of Neil Diamond, Barbra Streisand, Karen Carpenter, Simon and Garfunkel, Dolly Parton, Sonny and Cher and more.
Admission to the Cocoa concert is $10 for adults and seniors and $5 for students, payable at the door. The Titusville concert is free, but donations are welcome.
The Chorale is an all-volunteer group of mixed-voice adults from Central and North Brevard who enjoy singing quality choral music Pianist Jean Black will accompany the singers during both concerts.
For more information, visit brevardchorale.org or call 321-501-0833.