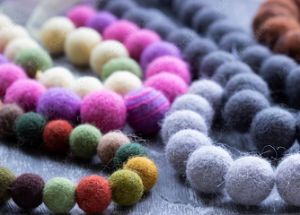 Beginning Felting Workshop
The Studios of Cocoa Beach is hosting a Beginning Felting Class with Glaucia Romano on Friday, November 18, from 5:30 to 8:30 pm. In this class students may practice soap felting as well as needle felting and choose their own project.
Felting is an ancient technique that creates a non-woven textile made of wool or animal fur. There are different ways to create felt: one is with soap and water, and another is with a felting needle. Regardless of the process, the action of felting binds fibers together creating a permanent bond, and making the felting process irreversible.
The possibilities are endless. A two-dimensional artwork ready to be framed, or a three-dimensional plushy, keychain, or even beads! With soap felting you can create cloth, hats, and more. Work at your own pace and your own level! Late arrivals and early departures are completely fine!
Glaucia has a Masters Degree in Art Education and is a certified Art Educator in the state of Florida. She has taught art classes for at least 15 years in the public and private sector, mostly to kids, but also to adults. She has a wide knowledge of a variety of media and processes and can't wait to share them with you!
Fee for the class is $65 which includes all materials. Register at the Studios website: www.studiosofcocoabeach.org. The Studios' classroom is behind their gallery at 159 Minutemen Causeway in downtown Cocoa Beach. The gallery is open Tuesday to Saturday 9 am to 7 pm and Sundays 10 am to 3 pm. For more information on the gallery, artist profiles, and upcoming classes visit the website or follow the Studios on Facebook and Instagram.