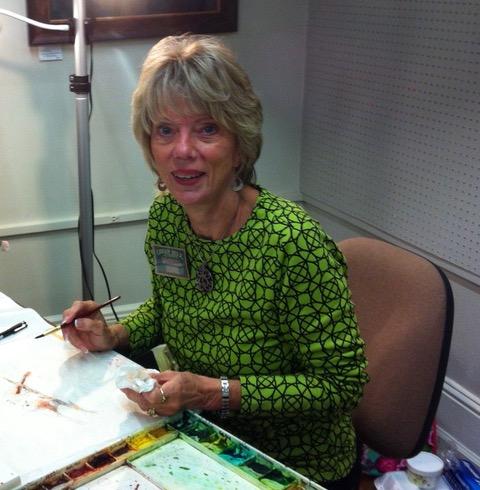 2-Day Watercolor Workshop with Barbara Brook
"Know Your Pallet"
After many years of painting with oils, Barbara began watercolor painting in 1991 A watercolor self-portrait, painted by her grandmother, was her inspiration. Barbara was intrigued by the delicate brushstrokes and soft, transparent colors, so totally different from painting with oils.
Most of her paintings are inspired by photos she has taken during travels around the U.S. as well as Europe, Asia, and Great Britain. Often a scene will capture her attention because of shadows cast by sunlight. Whether it is a picture of nature, doors and windows on old buildings, intriguing faces, or an Italian fishing boat she usually knows that it will eventually become a painting.
Barbara tries to chose subjects to paint that will appeal to others for their beauty or to capture the emotion of a scene, such as lights glistening through a crystal vase, or a serene landscape. Catching a glimpse of people's everyday life also appeals to her. Evoking an emotion in the viewer is her primary purpose for painting. Her passion for painting allows her to share that love with others.
Barbara's paintings have earned numerous awards and recognition. She is a member of the Southern Watercolor Society, the Transparent Watercolor Society of America, the Watercolor Society of North Carolina, where she lives, as well as the Brevard Watercolor Society. Her paintings can be see on her website: barbaras-watercolors.com.
"My method of teaching is to demonstrate, while teaching techniques, and then to give individual attention while students repeat what has been demonstrated."
This class is designed to teach various techniques, unique to watercolor painting, and to take the frustration out of color mixing. We will explore the value of values in our paintings and the benefits of glazing. The class is for beginner and intermediate painters