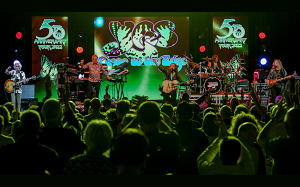 An Evening with YES
King Center for the Performing Arts presents…
As with "The Album Series Tour 2022," which started off in the UK this past June, the U.S. tour is dedicated to the late Alan White—the band's legendary drummer—following his passing this past May.
Alan White joined YES in June 1972, just days before their "Close To The Edge" Tour began. Over the following 50 years, Alan would appear on every YES album including 2021's The Quest. Following the global pandemic, he had been looking forward to this tour and re-joining his bandmates on stage, something he lived for, in the run up to his 50th anniversary of joining YES.
Sadly, that was not be, but Alan's towering presence will be omnipresent on the tour. Alan's good friend, drummer Jay Schellen, will join YES for the forthcoming tour, alongside Steve Howe (guitars & backing vocals), Geoff Downes (keyboards), Jon Davison (lead vocals) and Billy Sherwood (bass guitar and backing vocals).
The "Close to the Edge" show will comprise full production and a high-definition video wall directed by Andy Clark and featuring the artwork of Roger Dean.
Following the release of The Yes Album and Fragile in 1971, YES released what is widely considered one of the most defining albums, not only for YES but for the whole progressive movement. Close To The Edge became an inspiration for their contemporaries and for successive generations of musicians. The album is saluted with a cover story in the September 2022 issue of the national magazine Guitar Player, for which Steve Howe was interviewed. He recalls: "We were young, enthusiastic, and adventurous, and we had this incredible breakthrough success with Fragile. We saw our next album as a real opportunity to prove our worth as a band. The door had been opened and we weren't going to go backward. We wanted to sharpen our skills as far as writing and arranging."