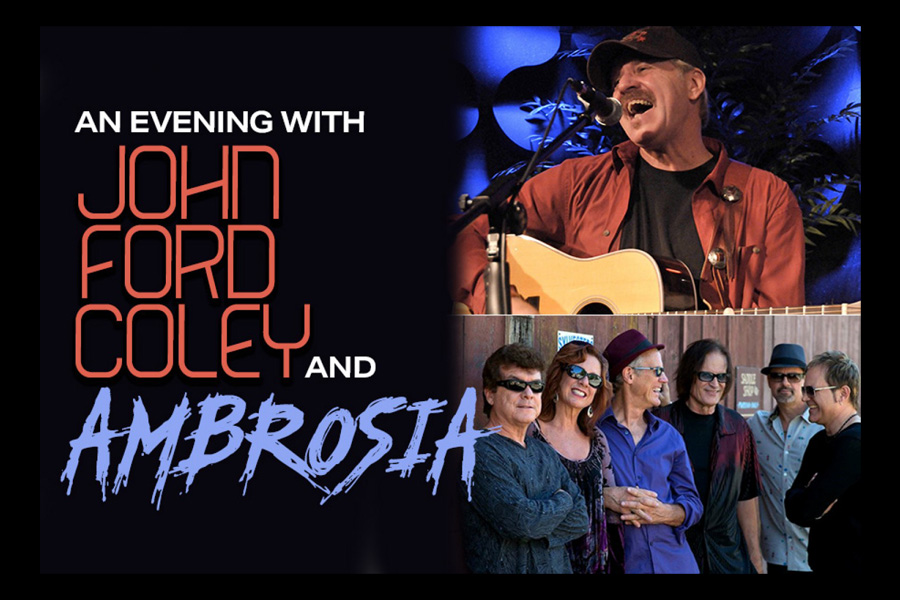 An Evening with John Ford Coley & Ambrosia
King Center for the Performing Arts presents…
Monday, May 16, 2022 | 7:30 p.m.
C
ertain songs you hear in your life transport you to a special time or give you a unique feeling. You associate those good times to the group that made them famous. Songs like "I'd Really Love To See You Tonight", "Nights Are Forever Without You" and "Love Is The Answer" have that kind of effect. Those songs and many others have made John Ford Coley half of the Grammy nominated duo England Dan and John Ford Coley, a singing legend.
After John Ford Coley kicks things off, AMBROSIA will take the main stage, performing some of their hit songs "How Much I Feel", "Biggest Part of Me", "You're the Only Women", "Holdin' on to Yesterday" and "Nice, Nice, Very Nice". Expect John Ford Coley and AMBROSIA to also perform a few of their classics TOGETHER on stage – a truly memorable evening at the King Center – L3Harris Theatre!
The story of AMBROSIA begins in 1970 where four young musicians from the South Bay of Los Angeles, came together to create a new invigorating style of music. Exploring the possibilities of progressive classical and world influences, yet rooted with the soul of the blues and R&B. Joseph Puerta, Christopher North, David Pack, and Burleigh Drummond created a new sound that was defined and recognized as, "Ambrosia". Originally labeled as America's answer to the progressive invasion of such English acts as "Yes" and "King Crimson", the group quickly proved it was all that and much more as its albums painted aural landscapes covering the gamut of musical styles and attracting the collaboration of such cultural icons as, Leonard Bernstein, Kurt Vonnegut Jr. and Alan Parsons.
The group is well into the recording of a new CD and continues to tour throughout the world delighting audiences everywhere they perform. Ambrosia wants to thank its fans for 43 years of musical support and give a promise for much more great music to come!