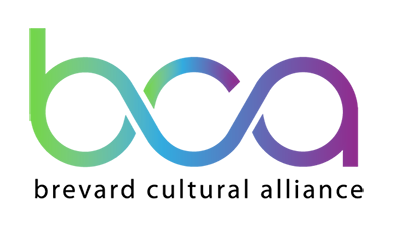 BREVARD CULTURAL ALLIANCE'S NEWLY REDESIGNED
WEBSITE RELFECTS THE HE'ART' BEAT OF ITS COMMUNITY
To enhance their role as the central source for arts and cultural information on the Space Coast, Brevard Cultural Alliance (BCA) has launched a newly redesigned website, www.artsbrevard.org, to support BCA's mission of promoting arts and cultural events / activities to area residents and visitors. With an average of 5,000+ unique visits per month, Brevard Cultural Alliance's website has been revamped to provide Brevard County residents and tourists a more user-friendly way of learning about current and future arts and cultural offerings. With over 48% of all web visitors now being mobile, another significant upgrade was ensuring the site is also fully responsive and as accessible as possible for all users.
We've redesigned and rebuilt the site, while still preserving our 46-year history," said Kathy Engerran, Interim Director of Brevard Cultural Alliance. "It's a brand-new interface, which includes improved search functionality and optimization for mobile browsing ."
The revised website features information about upcoming events in dance, theatre, exhibitions, music, and family activities. It also enables visitors to learn more about BCA programming which serves cultural organizations, artists and students as well as other ways to engage and support Brevard's cultural community.
BCA encourages users interested in staying in the loop, about all that is happening in the region, to subscribe to their eNewsletter to learn more about upcoming events and other arts and cultural news. Event seekers are also urged to visit, "like", "follow" and share BCA's new Facebook page to keep apprised of local cultural news and activity. Once users have had an opportunity to spend time on the new site, Brevard Cultural Alliance welcomes and encourages their feedback. Any comments, questions, suggestions or ideas should be sent to their Communication Manager.