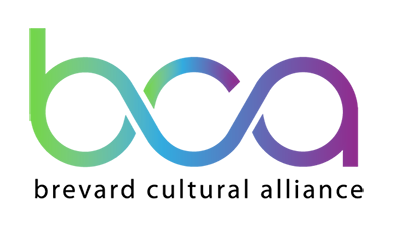 BREVARD CULTURAL ALLIANCE & WEVENTURE WBC
TO HOST A WECONNECT VIRTUAL COLLABORATION
On February 25, 2021 at 3:00 PM, Brevard Cultural Alliance (BCA) and weVENTURE Women's Business Center in the Florida Tech Bisk College of Business invite artists, cultural administrators and business owners within the arts and cultural community to a virtual town hall entitled "Navigating Next: Understanding the Challenges and Exploring Solutions for the Cultural Community".
Over the past year, Brevard Cultural Alliance has monitored the devastating grip the coronavirus pandemic has had on the Space Coast's arts and cultural community and hopes this online forum will help identify existing needs as well as provide the latest information on available support and resources.
This discussion comes at a crucial moment in our history as many still grapple with the overwhelming health and socioeconomic effects of the COVID-19 pandemic," said Kathy Engerran, Interim Director of Brevard Cultural Alliance. "As we continue to maintain physical distance, it is important for our community to remember they are not alone. This virtual town hall will not only provide meaningful information, but also hopefully identify tools and resources to improve resiliency."
For this 90-minute town hall, moderators Business Coach Jeannette Kraar and IGNITE 360 Program Director, Kathy Register, both with weVENTURE WBC, will gather feedback and facilitate conversations on important topics regarding how businesses can navigate COVID-19.
"weVENTURE WBC is laser focused on helping the small business community through this unprecedented time," states Executive Director, Kathryn Rudloff. "We are grateful for the opportunity to partner with BCA to provide support to local entrepreneurs in the arts and cultural community."
Funded in part by a grant from the U.S. Small Business Administration, weVENTURE WBC provides low and no-cost business education and training to entrepreneurs on the Space and Treasure Coasts. Their services include complimentary 1:1 business coaching, group trainings, peer groups, and the IGNITE 360 Business Mentoring program,
To register for this FREE virtual town hall, please visit: https://fit.zoom.us/meeting/register/tJApcemurj8sGtCeVELZZAeTdbv6-MkTeVQT . For more information, please contact weVenture at 321.674.7007 or weventure@fit.edu