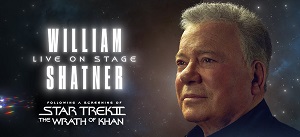 William Shatner: Live on Stage & Film Screening
King Center for the Performing Arts presents…
Following a screening of the classic film "Star Trek II: The Wrath of Khan," Shatner, one of Hollywood's most recognizable and beloved figures, will take to the stage to share fascinating and humorous behind-the-scenes stories from his seven decades-long career as an actor, producer, director, writer and – most recently – space-traveler. Fans will also have a chance to ask Mr. Shatner questions during an audience-led Q&A.
A limited number of VIP tickets will be available which include premium seating and a photo opportunity with Mr. Shatner. Ticket go on sale Friday, June 30 at 10 am online and noon at the King Center Ticket Office / 321-242-2219.
Don't miss your chance to see a Hollywood legend in this thrill-of-a-lifetime evening.