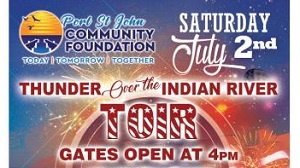 Thunder Over the Indian River
Come out to celebrate our Nation's Independence!!
Inflatables, DJ, Demonstrations, BBQ Contest, Food/Dessert Trucks, Raffles and of course the best fireworks show in Brevard county!
TOIR…Thunder Over the Indian River Firework Display will take place on Saturday, July 2nd, with Sunday being the rain-out date. It will be held at the same location as in past years at the OUC plant. To hold this event the Port St John Community Foundation needs volunteers and sponsors to help make this the great event as it has been in the past. Businesses and residents are invited to join planning meetings and participate for all or any event.