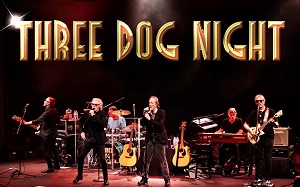 Three Dog Night with Special Guest Charlie Farren
King Center for the Performing Arts presents…
Legendary band, THREE DOG NIGHT, now in its 5th decade, claims some of the most astonishing statistics in popular music. In the years 1969 through 1974, no other group achieved more top 10 hits, moved more records, or sold more concert tickets than THREE DOG NIGHT.
THREE DOG NIGHT hits weave through the fabric of pop culture today, whether on the radio where they are heard day in and day out, in TV commercials or in major motion pictures — songs like "Mama Told Me (Not To Come)", "Joy to the World", "Black and White", "Shambala" and "One" serve to heighten our emotions and crystallize THREE DOG NIGHT's continuing popularity.
Marking over 50 years on the road, THREE DOG NIGHT continues to grow its fan base by keeping up a full schedule of concerts at theatres, performing arts centers, fairs, festivals, corporate events, and casinos. Since 1986, the band has performed nearly 3,000 shows including two Super Bowls.
Joining Three Dog Night as a special guest will be Boston Rock Legend Charlie Farren. He's long been known for great songs, great singing, and for outstanding live performances. Currently touring solo acoustic, Farren captures the audience with his unique delivery, insightful lyrics, soaring vocals, and distinctively intricate, 'Full Band' guitar style that distinguishes him among the country's elite musical artists.