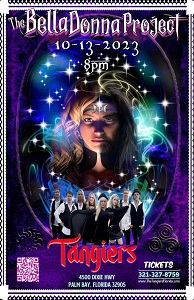 The Bella Donna Project
The Tangiers presents…
The Bella Donna Project presents a mesmerizing tribute to the legendary Stevie Nicks with their enchanting Gypsy Gala theme. This magical event transports you into a world of mysticism, music and elegance filled with the soulful melodies and ethereal vocals that made Stevie Nicks an icon. Each song is performed with unwavering passion and captures the essence of Stevie's unique blend of rock and storytelling. Immerse yourself in the ambiance of a whimsical gypsy camp as the atmosphere comes alive and invites you to embrace your inner bohemian and let your free-spiritedness soar. Feel free to dress up and take part in this theme which is a celebration of artistry, individuality and beauty all while enjoying the music, magic, and a timeless connection to the enchantress herself. This tribute is guaranteed to leave you in awe! Join us and enjoy the timeless classics that have shaped the music industry! Tickets on sale now! exact sounds of the super group, Journey, paying special homage to Journey's best years (1977-1998) when Steve Perry fronted the band. Their passion for authenticity and attention to detail make the audience feel like they are at a classic Journey concert.
Their precise renditions of the Styx progressive rock sound truly capture the mix of hard rock guitar, acoustic guitar, synthesizers and acoustic piano. Come Sail Away with us and enjoy listening to hits like Babe, Mr. Roboto, Lady, The Best of Times, and many more.
Their harmonies are precise. Their stage presence is engaging. They always leave their audiences begging for more.
Tickets on sale now!