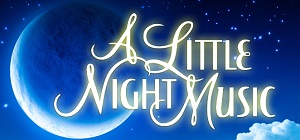 Stephen Sondheim's A Little Night Music
Space Coast Symphony Orchestra presents..
August 26, 2023  |  7:00pm  |   Scott Center Auditorium at Holy Trinity
Your Space Coast Symphony Orchestra teams with Central Florida Arts and Opera del Sol to present a fully staged production of Stephen Sondheim's A Little Night Music.  Set in the enchanted birch groves of Sweden, A Little Night Music sings and waltzes its way through the lives of mismatched couples who are about to make some very surprising discoveries about their true desires. In an ever-thickening plot, the couples come together on a midsummer's night when the sun never sets for "A Weekend in the Country." Anything can happen on a warm summer night – to the very young, to the very foolish, and to the very old. Join us for Sondheim's witty, brilliant masterpiece that features the haunting "Send in the Clowns."  Featuring an incredible cast, don't miss this incredible production featuring the gorgeous sound of a full orchestra of one of America's most beloved musicals.