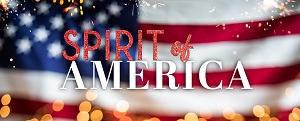 Spirit of America Concert
Space Coast Symphony Orchestra presents..
June 25, 2023  |  3:30pm  |   Riverside Presbyterian Church
Summer wouldn't have the same sizzle without a patriotic concert by your Space Coast Symphony Wind Orchestra. This 18th annual red, white and blue concert will honor all those who have worn our nation's uniform. This engaging program will showcase our national heritage, as conductor Aaron T. Collins directs the wind orchestra with music by John Corigliano, Lee Greenwood, and marches from "The March King," John Philip Sousa.  The concert features David Holsinger's thrilling and powerful work, To Tame the Perilous Skies, dedicated not only to the exceptional men and women of the Tactical Air Command, but to the spirit of the modern military aviator, taming perilous skies that all men will live free of oppression. Rounding out the program is the World Premiere of Christopher Marshall's Pulse.  Pulse is Marshall's response to the June 12 2016 massacre at the Pulse nightclub in his hometown, Orlando.  This powerful work expresses a full range of emotions – from grief to anger to consolation. It is an attempt to come to terms with this horrific incident and the many similar incidents where the innocent are targeted where they should feel safe – in places of entertainment, of work and of worship.