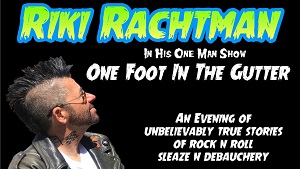 Riki Rachtman: One Foot in the Gutter
King Center for the Performing Arts presents…
November 4, 2023  |  8:00 PM
After his hugely successful spoken word show debut in Charlotte, North Carolina in September, Cathouse founder and former host of Headbangers Ball, Riki Rachtman will take One Foot In The Gutter on the road. An intimate evening of stories, tales and true-life fables from Riki himself…from growing up in Hollywood, to all the raunch roll sleaze and debauchery that happened at the Cathouse. Never before has he shared his experiences of Headbangers Ballin an uncensored spoken word event.
In all the "Once In A Lifetime" moments he's had, and he's had A LOT, this spoken word show is a personal highlight.
The former host of MTV's legendary Headbanger's Ball as well as the Founder of Hollywood's most notorious rock club and epicenter of raunch, the infamous party place, the Cathouse, Riki did something he's never done before: appeared in front of a very large audience and told his stories…not only some never before shared stories of the early days with some of the biggest names in rock n roll, but he opened up with his tales of drug addiction, jail, bankruptcy and his true rags to riches to rags to riches story.
"One Foot In The Gutter," is Riki's very first speaking tour, the first time he's discussed with an audience his career and past, how he helped define metal culture, and beyond. Rikii's uncensored, unapologetic and not at a loss for words. What was it really like hanging with some of the biggest rock stars on the planet when the cameras weren't on? What really happened on MTV with Nirvana, Alice in Chains, Ozzy and others?
Riki explains, "In my entire career, there is nothing that I am more proud of than this show. Walking out on stage was surreal for me. I was not introducing another band as I had done for decades. I was the opener and headliner. It was bizarre for me to realize that the packed house was there for me. The show was far more than a behind the scenes Headbanger's Ball tell all. The show was not just the description of the raunch that happened at my club Cathouse.
I opened up about my battles with drugs, my arrests, bankruptcy and a lot of bad choices. To know that some found inspiration in this show is the highest form of flattery.
" With one show done I am ready to do it again and again and again. I will incorporate multimedia more and deliver an experience with highs and lows. The idea of taking OFITG on tour truly is not only a dream come true, but the highlight of my career".