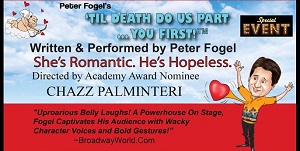 Peter Fogel's 'Til Death Do Us Part…You First!
From the man who brought you "My Mother's Italian, My Father's Jewish & I'm in Therapy!"
Young or old, divorced or married… if you've even been single (and that's everyone) … and want to experience (again) the feeling
of finding that Special Person to spend the rest of your life with — then you'll want to fasten your seat belt for 80 minutes of Non-Stop laughs with Peter Fogel's 'Til Death Do Us Part … You First!
Eternal Bachelor Peter Fogel has major commitment issues as the love of his life has just broken up with him on Valentine's Day. He senses his own mortality and after much soul searching he decides to revisit the scene of all his romantic disasters.
TWO SHOWS ONLY!
2 pm & 8 pm
Tickets:
VIP Gold $40 (Rows A, B, C, D, E)
VIP Reg $30 (Rows F, G, H)
General $25 (Rows I, J, K, L)