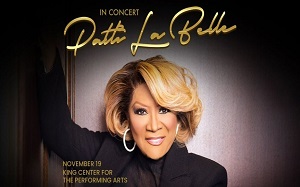 Patti LaBelle in Concert
Beautiful, simply does not describe the incomparable force known to the world as Patti LaBelle. As time continues to evolve, the soulful songbird's name has become synonymous with grace, style, elegance and class.  Belting out classic rhythm and blues renditions, pop standards and spiritual sonnets have created the unique platform of versatility that she is known and revered for.
It's a small wonder that Patti has time for anything else in between recording and touring, but she makes time and the world is oh so happy that she does!  She has written six books, Don't Block the Blessings, LaBelle Cuisine: Recipes to Sing About, Patti's Pearls, Patti LaBelle's Lite Cuisine, Recipes for the Good Life and Desserts LaBelle. Recently, Patti released a 20th anniversary edition of her New York Times bestselling cookbook, LaBelle Cuisine, featuring three new recipes.
The same motivation that had Patricia Louise Holte blossom from a choir member to lead vocalist for Patti LaBelle & The Bluebelles and later Labelle, to a solo artist, is the same energy that keeps her fire burning at seventy-eight years young. "Each year I grow, and that's a blessing from God.  I do what I can do.  I do what I feel God has given me the energy to do, so I just go out there and I do it…it's not about making money because I don't need money, but I need to sing.  With a voice or without, I've got to get on that stage."  And the world is thankful that Patti's voice sounds so good to our ears.
End Date:

November 18, 2023