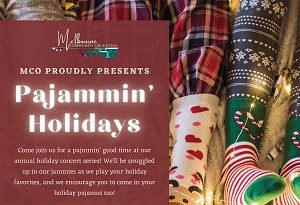 Pajammin' Holidays Concert
Melbourne Community Orchestra presents…
Wednesday & Thursday, December 20 & 21, 2023, at 7:00 p.m.
Pre-Concert starts at 6:15 p.m. with MCO's Small Ensembles
Come join us for a pajammin' good time at our annual holiday concert series Pajammin' Holidays! The orchestra will be all snuggled up in their jammies as they play your holiday favorites, and we encourage you to come in your holiday pajamas too. Listen to Richard Hayman's amazing arrangements of Santa Clause is Coming to Town and Rudolph the Red-Nosed Reindeer along with the famous Trans Siberian Orchestra's Wizards in Winter and Mad Russian's Christmas, and we'll keep your Dreidels spinning with Jaffe's Symph-Hanukkah.