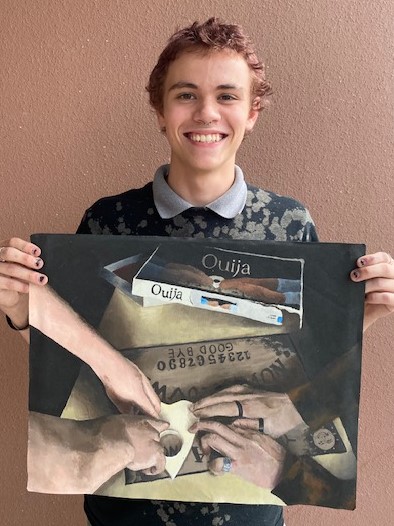 Opening Reception for Scholarship Winner
Each spring the Central Brevard Art Association awards a scholarship to a deserving Central Brevard County high school senior.  Its 19th annual Student Scholarship recipient is Rowan Booth from Cocoa Beach Jr/Sr High School.  For the third year the Studios of Cocoa Beach and Ridley's Custom Framing of Palm Bay have teamed up to present an exhibit of Rowans work.  His work will be on exhibit June 9 to 29, 2023 at the Studios' gallery, 165 Minuteman Causeway in downtown Cocoa Beach with an opening reception from 6 to 9 pm on June 10..
He will share the spotlight with Like the Yellow Sun, an exhibit of art in many media by Studios artists with the works exploring the color yellow.
Rowan is an athlete as well as an artist, playing football, basketball, cross country and track and field. He designed the senior class t-shirt, the graduation program and posters for the school theater programs. Rowan's classmates voted him Homecoming King and Most Artistic Senior. An honors AP student, he has been offered several scholarships and plans to major in Fine Art and Graphic Design.
In making their decision, the CBAA found his art to be insightful and intuitive. Rowan says Art is his passion and his salvation. His work is both Realism and Surrealism using a variety of mediums such as acrylic, gouache, watercolors, oil, often combining several.
Both exhibits will be on display until June 29. The opening reception on the evening of June 10th is an opportunity to meet Rowan and many of the Studios artists while enjoying enjoying refreshments and viewing amazing local art.
The reception is free. A donation to the Studios gives you a chance to win, as we raffle off two art works by Studios artists.
The gallery is open Monday 9 am to 2 pm, Tuesday through Saturday 9 am to 7 pm and Sunday 1 to 6pm. For information on the Central Brevard Art Association visit their website  www.cbaaartists.com.