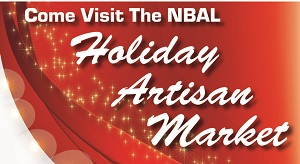 North Brevard Art League Holiday Artisan Market
The North Brevard Art League will hold a Holiday Artisan Market on Saturday, November 11th from 10 am – 3 pm.  In honor of Veterans Day, we will be offering a 10% discount on all sales with military ID. The Market will be held in the NBAL Studio located at 1421 Draa Rd., Titusville, FL.  Admission and parking are free.
The show will include Holiday themed art or items for gift giving from over a dozen artists.  Get your Holiday shopping done with unique cards, ornaments, soaps, pottery, decorations, jewelry, artwork and more.  The Market will include Food Trucks – NOB (No Ordinary Burritos) and Just Cupcakin' Around as well as an adoption event with the SPCA.
About North Brevard Art League
The North Brevard Art League is an active part of the community with a legacy that stretches over fifty years. Formerly known as The Titusville Art League, our organization is home to many artists of diverse backgrounds and preferred mediums. Each one is inspired by the natural beauty and state-of-the-art technology found at the doorsteps of our historic campus. Each year our annual art show draws some of the best artists in the area to compete for cash prizes and ribbons. Our Youth program includes classes for school aged children, summer camps, and our Sunshine Saturday event where we hold a free open house for area children to create art projects.