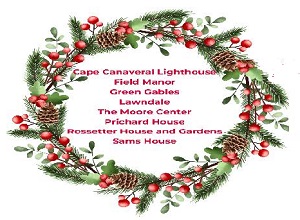 Museums of Brevard's 4th Annual Holiday Tour of Historic Homes
For the fourth year, Museums of Brevard is offering holiday tours of eight of its historic homes. Taking place over the first three weekends of December, this tour showcases the architecture styles of the late 19th century to the mid-20th century in Florida. The homes will reflect the season, with many offering goodies.
This year's tours will be held Friday, December 1st – 3rd, December 8th-10th, and December 15th -17th. Tours generally begin at 10 AM and end at 2 PM. Six of the historic homes require reservations, which can be made directly through the individual home. The Cape Canaveral Lighthouse, located on the Cape Canaveral Space Force Station, does require additional information and at least one week to process that information. "We realize this takes some coordination and have designed a Planning Guide to assist in the process of making reservations," adds Braden. You will receive your PastPort at the first home you visit, which will act as your ticket for the remainder of the tour
Participating museums include:
The Moore Cultural Center, Mims
Pritchard House, Titusville
Cape Canaveral Lighthouse, Cape Canaveral Space Force Station
Sams House, Merritt Island
Field Manor Homestead, Merritt Island
HS Williams/Lawndale 1895, Rockledge
Historic Rossetter House Museum and Garden, Eau Gallie
Green Gables at Historic Riverview Village, Melbourne
Ticket sales begin Fri., October 15th & end Fri., November 24th – online only. 150 tickets available.
Visit: https://MOB4thAnnualHolidayTour.eventbrite.com Visit: Museums of Brevard on Facebook
The Museums of Brevard is a nonprofit association of museums and historic sites in Brevard County, FL. Together, MOB members advertise and promote each other, as well as share best practices and lessons learned in museum management, fundraising, grant writing, and collections management. The monies raised from this event will act as donations to the participating homes for historical preservation projects.