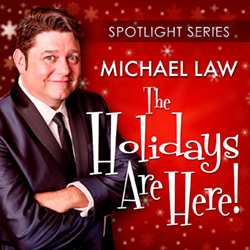 Michael Law & Friends: The Holidays Are Here!
Historic Cocoa Village Playhouse presents…
December 5 & 6, 2023  |  Performances at 7:30pm
The holidays have arrived at the Playhouse with the return of one of our favorites, Michael Law!
As an early Christmas present, Michael Law packs the house for two dazzling performances filled with energetic comedy and mingled with the touching poignancy of Christmas that only this show can bring to the stage. Featuring special guests and a live band, you'll be tapping your toes and humming along with this variety show reminiscent of the live TV classics like The Carol Burnett Show and The Andy Williams Show!
Featuring special guests, including Sally Kalarovich & Lord Nathaniel Knepper-Quijano (Vocalist), Roger Guthrie (Saxophonist) and J. Thomas Black Jr. (Music Director/Keyboard Artist) and more.