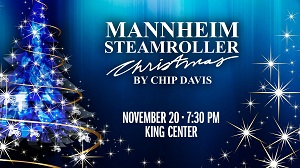 Mannheim Steamroller Christmas
The Ultimate Holiday Tradition!
Mannheim Steamroller Christmas by Chip Davis has been America's favorite holiday tradition for over 35 years!   Grammy Award winner Chip Davis has created a show that features Mannheim Steamroller Christmas classics in the distinctive Mannheim sound. The program includes dazzling multimedia effects performed in an intimate setting. Experience the magic as the spirit of the season comes alive with the signature sound of Mannheim Steamroller.
o keep a relentless schedule full of work, with gigs as an actor, author, DJ, voice-over artist and TV show host to name a few of the roles that keep his schedule full. Rollins has toured the world as a spoken word artist, as frontman for both Rollins Band and Black Flag and as a solitary traveler with insatiable curiosity, favoring road-less-traveled locales in places such as Nepal, Sri Lanka, Siberia, North Korea, South Sudan and Iran.
End Date:

November 18, 2023