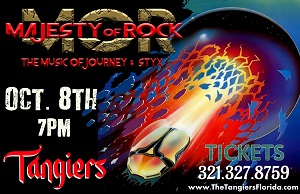 Majesty of Rock: The Ultimate Tribute to Journey/Styx
The Tangiers presents…
Performing together for almost a decade, Majesty of Rock is one of the most sought-after Journey and Styx tribute bands in the country. Not only does the lead singer, John D'Agostino, capture Steve Perry's iconic vocals, but he also nails the vocal essence of Dennis DeYoung and Tommy Shaw from Styx.
Re-creating the exact sounds of the super group, Journey, paying special homage to Journey's best years (1977-1998) when Steve Perry fronted the band. Their passion for authenticity and attention to detail make the audience feel like they are at a classic Journey concert.
Their precise renditions of the Styx progressive rock sound truly capture the mix of hard rock guitar, acoustic guitar, synthesizers and acoustic piano. Come Sail Away with us and enjoy listening to hits like Babe, Mr. Roboto, Lady, The Best of Times, and many more.
Their harmonies are precise. Their stage presence is engaging. They always leave their audiences begging for more.
Tickets on sale now!