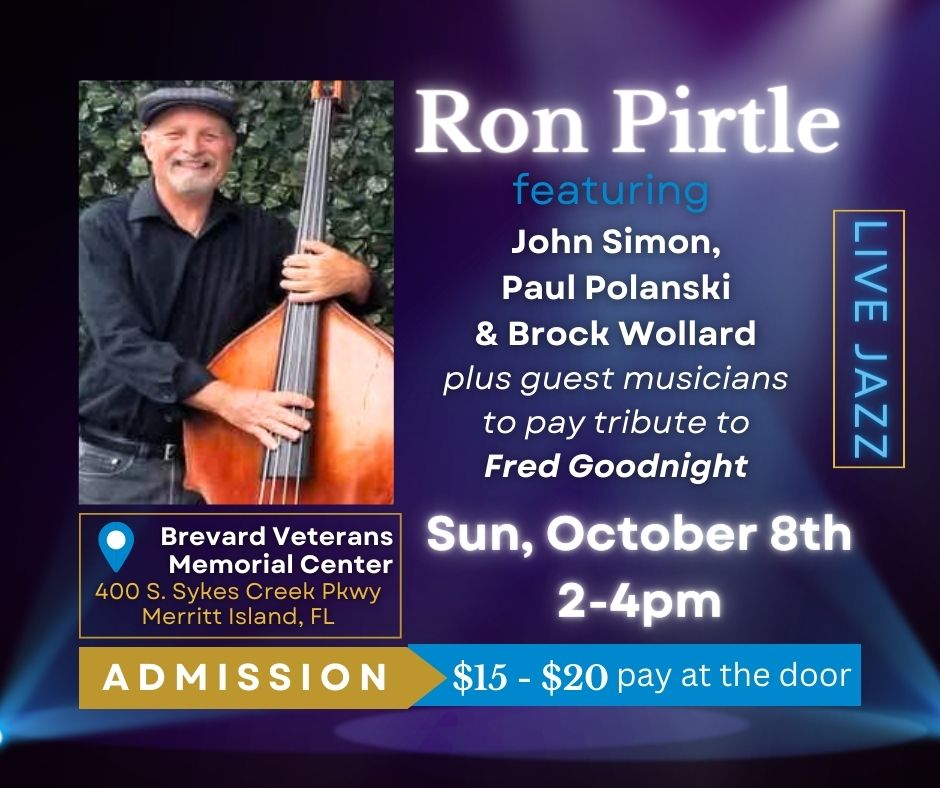 Live Jazz Concert with Ron Pirtle and Band
The Space Coast Jazz Society will feature Bass musician RON PIRTLE with JOHN SIMON on keyboard, PAUL POLANSKI on sax, and BROCK WOLLARD on drums. There will also be a "Tribute to Fred Goodnight" with special guest musicians!
RON PIRTLE comes from Ohio and is a farm boy by heritage. His parents gave him an electric bass guitar when he was 12 years old. His brother played lead guitar, so the two boys formed a rock and roll band. As soon as he was old enough, Ron traveled throughout Ohio and Pennsylvania, playing music. He discovered blues and jazz when he worked with an older blues piano player. He switched to upright acoustic bass and nurtured his talent and love for jazz. Ron married his high school sweetheart Joyce, and they moved to Florida in the 1980s. He was soon established in the Space Coast jazz scene. Ron worked as a mail carrier by day and jazz musician by night. Now retired from the post office, he works a couple of regular weekly night club gigs and takes other dates when they come available. He also leads his own jazz group, the Ron Pirtle Quintet, and has recorded a CD with that group. Ron can be heard playing his bass all over Central Florida. You can learn more about Ron here: 
www.RonPirtle.com.
Pianist JOHN SIMON describes himself as a "compulsive musician". As a record producer, he produced albums by The Band, Janis Joplin, Leonard Cohen, Blood, Sweat & Tears, Gil Evans, David Sanborn, Michael Franks and others. He also recorded several albums of his own songs, scored movies, ballets and circus acts. He recently completed a Grammy-nominated project with his longtime friend, Taj Mahal, called "Savoy". Through all of that, jazz has been his life-long quest. In his previous hometown near Woodstock, NY, he led a piano trio for 15 years, acknowledged as the longest-running steady gig in the Hudson Valley. In 2018 he wrote "TRUTH, LIES & HEARSAY: A Memoir Of A Musical Life In And Out Of Rock And Roll", available wherever fine literature is sold. As a self-described "compulsive musician", Simon continues to be active.
Saxophonist PAUL POLANSKI moved to the Space Coast in 1983 with a seven piece jazz/calypso/reggae band from Ohio University, in Athens, Ohio. He has started and played in numerous bands in the Melbourne area including the Ron Pirtle Quintet. Paul has been mentored by his older brother, Stanley, who presented him with his Selmer Mark VI in 1974. Paul's style is strongly influenced by Dexter Gordon. He retired from his Physical Therapy profession and now devotes his time to playing and discovering new music.
Drummer BROCK WOLLARD is a product of the Brevard County Schools band program, and a former recipient of the Space Coast Jazz Society Scholarship in 2001. After graduating from The University of North Florida in 2005, where he pursued a degree in Jazz Studies and minored in Percussion, he was active in the Jacksonville music scene as both performer and teacher. Brock opened a music school in 2017, "The Groove Shack" in the Satellite Beach area where kids and teens can learn music both privately and in a group band format. The school has grown to be one of the largest in the area, with a teaching staff of 13 members, and a student body of over 350 students. 
https://www.grooveshackfl.com/
. Brock continues to perform with his long time friend and mentor Ron Pirtle, and their trio, (The Harbor City Trio) among other local jazz, rock, and blues artists.
General Admission is paid at the door: $15 for Jazz Society and Veterans Memorial Center members, $20 for guests, students under 25 yrs of age are FREE. Bring your own food & drink – tables, seating, great music and a beautiful view of the river are provided.