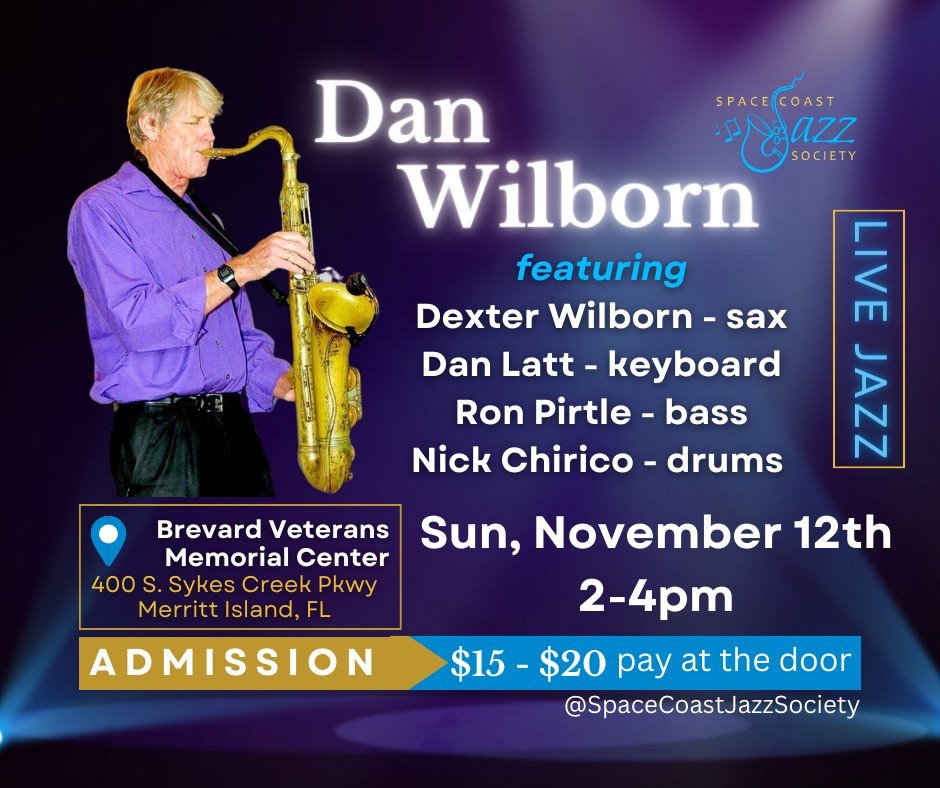 Live Jazz Concert by Saxophonist Dan Wilborn
Saxophonist Dan Wilborn will be in concert with Dexter Wilborn on sax, Dan Latt on keyboard, Ron Pirtle on bass, and Nick Chirico on drums.
Dan Wilborn plays alto, tenor, soprano sax and the flute. He has performed at many venues and high profile shows, and with bands such as the Puzzlers, Equator, The Rainmakerz, and the Space Coast Big Band. He performed concerts for WGRV radio station and live on WFIT radio station. Dan has also performed at a Democratic Presidential rally for then VP Joe Biden, the Melbourne Arts Festival, the Suwanee Music Festival, and the Foosaner Art Museum. Dan lives in Melbourne Beach, FL.
Dexter Wilborn is a multi-instrumentalist from Melbourne Beach, FL. He has performed with a variety of musical acts at different venues across Brevard County and abroad, with notable performances including a concert for then VP Joe Biden, the Suwanee Music Festival, the Melbourne Arts Festival, and the Melbourne Beach Founder's Day Celebration. Dexter's style is heavily influenced by his jazz roots and the mentorship of his father, Dan Wilborn. He also draws inspiration from gospel music, R&B, salsa, blues, and rock and roll. Dexter has performed as an instrumentalist for the University of Florida Gospel Choir and several Gospel Praise and Worship groups on both the saxophone and electric bass. He has a PhD in Counseling Psychology from the University of Florida and is working on his psychologist residency at the James A. Haley VA Hospital in Tampa, Florida.
Ron Pirtle comes from Ohio, a farm boy by heritage, and is now a retired mail carrier and bass player. He started playing a bass guitar at age 12 and when he was old enough, he traveled throughout Ohio and neighboring Pennsylvania, playing music. He discovered blues and jazz and switched to upright acoustic bass. Ron married his high school sweetheart Joyce, and they moved to Florida in the 1980s and he became a dynamic and moving force in the local jazz scene on the Space Coast. Ron leads his own jazz group, the Ron Pirtle Quintet, and has recorded a CD with that group. He now plays bass all over Central Florida. You can learn more about Ron at: www.RonPirtle.com.
Dan Latt is from Washington DC and has played with Larry Coryell, Buck Hill and Ira Sullivan, among others. He is best known as a jazz pianist for National Public Radio, NBC and Cisco Systems. His trio plays in and around the Washington area.
Drummer Nick Chirico has played locally and around the country for years.
General Admission is paid at the door: $15 for Jazz Society and Veterans Memorial Center members, $20 for guests, students under 25 yrs of age are FREE. Bring your own food & drink – tables, seating, great music and a beautiful view of the river are provided.