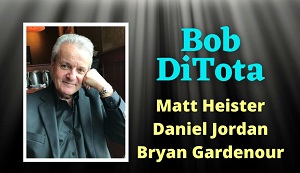 Live Jazz Concert by Bass Musician Bob DiTota featuring Matt Heister
Bass Musician Bob DiTota will be joined by Matt Heister on guitar, Daniel Jordan on sax and Bryan Gardenour on drums.
Bob DiTota is originally a New York City native. His love of jazz began when he was a young adult listening to jazz greats at venues like Birdland, The Village Vanguard, The Blue Note, and Basin Street East. Bob first studied guitar in New York for a number of years but became more interested in playing bass as time went on. Early influences on the acoustic bass were Ray Brown, Ron Carter and Oscar Petiford.
He performs at venues around town, accompanying various artists. He has performed with The Jazz Cats, The Jordan Thomas Orchestra, The Space Coast Big Band, and Swingtime. Bob has put together combos for private events and played with Ron Teixeira, Krystal Clark, Matt Heister, Dan Wilborn, Vince Lewis and Maddy Winer.
Jazz guitarist MATT HEISTER has performed across North America, Europe, Africa and Asia. His career highlights include duets with legendary guitarists Larry Coryell, Peter Bernstein and Barry Greene. Also, performances in New York City jazz clubs such as Kenny's Castaways, The Bar Next Door, Tomi Jazz, Shrine and Somethin' Jazz.
He had a 5-year stint playing in the U.S. Air Force Band, performed at the Monterey Jazz Festival, a collaborative concert with members of Jazz at Lincoln Center in Doha, Qatar and toured through all major cities of Ukraine.
Prior to joining the U.S. Air Force Band, Matt lived in New York City. Here he performed in Manhattan's world-renowned jazz clubs and studied at The New School, in Greenwich Village. He received his bachelor's degree in Jazz and Contemporary Music in 2014. His teachers included Peter Bernstein, Jonathan Kreisberg, Vic Juris, Rory Stuart, Hal Galper, Bill Kirchner and Reggie Workman.
DANIEL JORDAN is a current member of the Dr. Phillips Jazz Orchestra, and well known woodwind sideman to anyone who wants the best. As a tenor saxophonist and flautist, Dan plays with a unique style full of passion.
He joined Maynard Ferguson's band in 1982, and began touring and recording as the tenor soloist. With He played with greats such as Eddie Gomez, McCoy Tyner, Al Foster, Slide Hampton, Billy Eckstine, Mel Torme, and many others.
Dan was chosen to join artist in residence Elvin Jones at the Atlantic Center for The Arts for a 3 week residency in 1985, and played lead alto with Sam Rivers Big Band until Sam's transition. While living in New York, Daniel toured the world playing Reed 1 with Natalie Cole, and toured nationally with Michael Wolf and Badal Roy.
Some of Dan's other notable career moments include being Judson Green's musical director for 30 years, and playing on Larry Coryell's last album Barefoot Man: Sanpaku.
Dan Jordan recorded his own CD called "Pure Joy" in 2015, and has since appeared on many recordings including Cortez/Williams Project Hermanos, and Chris Cortez' Live at Blue Bamboo.
BRYAN GARDENOUR is from Melbourne, FL and is a professional drummer with many years of performing experience, including high school symphonic/marching bands, Florida All Star Marching Band and DCI Drum Corp Suncoast Sound.
He has studied with Chester Thompson (Genesis, Weather Report), Jeff Sipe (Aquarium Rescue Unit) and Shawn Pelton (SNL House Band). Other notable experience includes: nationally touring Top 40 bands, Disney World, Universal Studios, Royal Caribbean and Carnival Cruise ships and The Capitol in Washington D.C. Bryan lived in NYC for 8 years and played with numerous jazz artists and also performed at venues such as Birdland, The Rainbow Room and Smalls while studying at Drummers Collective.
Bryan was a member of the Eric Stuart Band and toured the U.S. as the opening act for Peter Frampton. After moving to Nashville, he was active in the music scene and played at venues such as The Ryman Auditorium and B.B. Kings. From there Bryan relocated to the SF Bay Area and performed with local artists before moving back to Melbourne in 2013 to be closer to family.
General admission is paid at the door: $15 for Jazz Society and Veterans Memorial Center members. $20 for guests. Students under the age of 25 are free. Bring your own food and drink. Tables, seating, great music and a beautiful view of the river are provided.