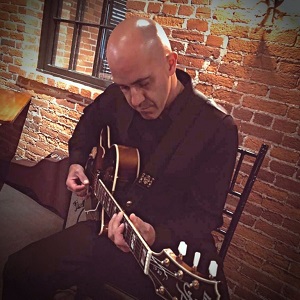 Jazz Guitarist Walt Stacey in Concert
WALT STACEY is in concert with RON TEIXEIRA on the keyboard, THOMAS MILOVAC on bass, BILLY D on saxophone and STU MONSMA on drums.
WALT STACEY is a professional Jazz/R&B guitarist living in Oviedo, FL. He has performed across the US and Europe with several bands and solo artists in clubs, theaters, arenas and stadiums. In addition, many performances on radio, television, and Broadway. Walt is also known for performing a tribute to jazz guitarist Wes Montgomery, honoring Montgomery's centennial year (March 6,1923 – June 15, 1968).
Walt attended Berklee College of Music in Boston and William Paterson College. He studied with Rufus Reid, Harold Mabern, Vic Juris, Bucky Pizzarelli, Jon Damien and others.
After college, he performed and recorded with various R&B, Funk, and Rock acts. Working between 5 and 7 nights a week for almost 2 decades.
Then, he re-dedicated himself to his jazz studies. He now performs and teaches in central Florida where he also records and produces at his home studio in Oviedo.
RON TEIXEIRA has performed in New York City midtown hotels and many jazz venues for 20 years. He performed with a long list of celebrated jazz musicians, including Frank Morgan, Bert Francis, Larry Coryell, Nancy Kelly, Pat Marino, Ira Sullivan and many other national and internationally recognized jazz artists.
Ron's hometown is Cocoa Beach, FL. He attended Berklee College of Music in Boston, and received his BA degree in Composition. For many years, he has performed as part of the house trio at the famous Heidi's Jazz Club in Cocoa Beach and teaches jazz piano as well.
THOMAS MILOVAC is a bassist, composer, improviser, and artist based out of Orlando, Florida. He has performed throughout the United States appearing with artists such as Ulysses Owens Jr., Wayne Escoffery, Ryan Devlin, Adam Nussbaum, Steve Cohn, Rashid Williams's LFJ Orchestra, Alex Han, John Lumpkin, Zoh Amba, Dominick Farinacci, Steve Swell, Elizabeth A. Baker, Sean Hamilton, Majid Araim, Chad Lefkowitz-Brown, Renee Baker, and Jonas Van den Bossche.
Thomas is also a member of the "pan-Florida improvisation syndicate" BONGUS, jazz rock group Creek, and the Jacksonville based ensemble Madre Vaca. He also leads his own ensembles performing his original works. These projects includes the Thomas Milovac Sextet and Trio, Large Ensemble, and the bass and drum duo, The Improjectionists.
Thomas started his record label, Cosmo Sonic Collective, focused on releasing improvised music. Thomas released his debut studio album "Sun Ray" in February of 2022. You can listen to samples of his music here: https://www.thomasmilovacmusic.com/music.
BILLY D is originally from Iowa and is now a resident of Satellite Beach. He attended the Indiana University Jacobs School of Music, where he studied with Dr. Eugene Rousseau, one of the most renowned classical saxophonists in the world.
Davis toured and performed internationally as part of the opening act for the likes of Eric Burdon, Jim Hall, Black Oak Arkansas, Nitty Gritty Dirt Band and other well-known headliners.
As a member of the Cedar Rapids Jazz Band, he played with jazz greats such as Ernie Watts, Eddie Daniels, Jimmy Heath, Bob Mintzer and steel pan artist Andy Narell. Davis was a member of the Iowa Arts Council and taught jazz at community based schools and colleges for 23 years.
He came to Florida in 2010 and has been performing locally ever since, at public events, private parties and music festivals. Iowa has not forgotten its native son however. In the fall of 2019, Davis was inducted into the Iowa Rock and Roll Hall of Fame.
STU MONSMA is a drummer and hand percussionist with over 50 years of stage and studio experience, encompassing jazz, rock, and Latin styles. Stuart has performed with known artists including Manfredo Fest, Sam and Dave, the Drifters, Leslie Gore, and many others.
General Admission is paid at the door: $15 for Jazz Society and Veterans Memorial Center members, $20 for guests, students under 25 yrs of age are free. Bring your own food & drink. Tables, seating, great music and a beautiful view of the river are provided.